Mountain Bike Holidays, Cycling and Hiking Holidays in Andalucia
Day Trips - Mountain Biking, Cycling, Walking
Specialist local providers and guides for mountain biking holidays, leisure cycling holidays, self guided cycling tours and walking holidays in southern Spain. 
We also offer mountain biking, cycling and walking day trips in the unspoilt countryside around Ronda in Andalucia.  The area has very few marked mountain bike routes or walking paths and the maps tend to be outdated and inaccurate, so our guides ensure you never lose your way or waste precious holiday time trying to find decent trails.  
We are a small and personal busines, specialising in trips for couples, families and small groups. We are uniquely flexible, with unparalleled knowledge of the local area and its dramatically beautiful, mountain landscape, so we will tailor your holiday or day trip to suit your abilities and preferences. For strong and capable mountain bikers, cyclists and walkers we have routes which make the most of the high passes, technical singletrack and twisting mountain trails. For less confident or strong riders/walkers we offer "tours with pick ups", so you get to see some of Spain's lovliest countryside and characterful white villages whilst not having to worry about long distance rides or huge hill cllimbs at the end of the day. 
Ronda in Andalucia is a fabulous town to begin your walking holiday, mountain biking holiday, cycling holiday or self guided cycling tour in Spain. With its clifftop location, deep gorge and historic presence you will never tire of its charms. After a day out mountain biking, cycling or walking, return to Ronda and its the many bars, cafes and restaurants, where you can sample the local tapas, wines and food. And with some of the best weather in Europe, it is the perfect destination for your mountain biking holiday, cycling holiday, walking holiday or self guided cycling tour.
If you read about us in the 

  use the following links to read more about our featured holidays:                           Thrill and Exhilarate or Invigorate and Refresh
Important Note!
We are a fully accredited company registered in Andalucia with the Spanish tourist authorities and are Active Tourism registered (AT/MA/00221).  We ensure our guides are "British Cycling" trained and qualified in outdoor First Aid to provide a safe day out and peace of mind for all our customers when taking to the trails and mountains.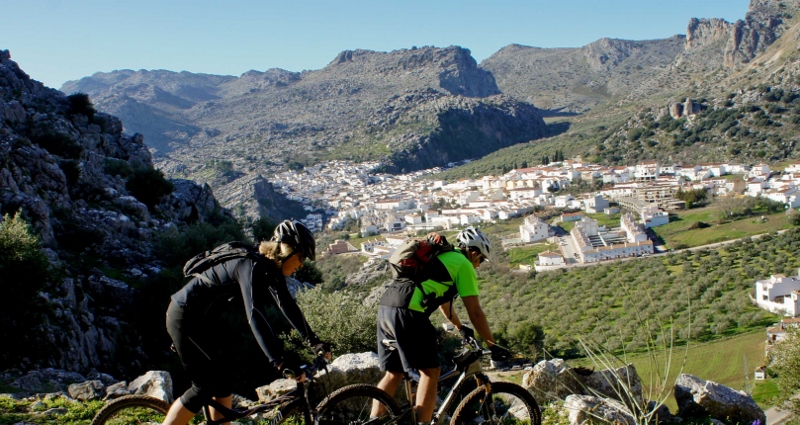 Mountain Bike Holidays
Mountain bike holidays are available for intermediate and experienced mountain bikers. We will show you the best of western Andalucia's mountain bike trails and you will have a great time exploring what the area has to offer. Whatever your level of experience on a mountain bike, if you enjoy being off the beaten track, are keen to take on the challenge of the hills and love the feeling of riding dusty mountain trails, you will enjoy mountain biking  in this area.
We offer guided mountain bike holidays and self guided mountain bike holidays to suit your preference. We also offer different levels of mountain bike holiday, depending on your experience, fitness and level of technical riding skill.  At a moderate level, we have plenty of rides which explore the mountain bike trails and paths which criss-cross the countryside close to Ronda. Or, if your eyes light up at the thought of epic cross country mountain bike rides through the wider landscape, miles of singletrack , thrilling descents and rocky, technical climbs which will push your mind and body, then our mountain bike holidays have this in abundance.
Cycling Holidays
If you prefer cycling on roads, we offer guided cycling holidays, self-guided cycling holidays and self guided cycling tours in Spain.  Our Andalucian road cycling holidays and road cycling day tours are perfect if you dream of cycling on clear mountain roads which curve and sweep through the hills and forests, visiting isolated mountain villages or cycling along tranquil lake shores. On our Andalucian road cycling holidays, you will have plenty of time to enjoy the views and the scenery, stopping to take in the sights and sounds of rural Spain as you ride. 
On our road cycling holidays and day tours, each day's ride ranges between 25km and 65km with varying levels of ascent. We will help you select the rides which suit your fitness and experience, allowing you to cover mileage but without ever feeling that you are on a race or a marathon endurance ride. All our road routes are tracked to show the amount and difficulty of climbing involved. Andalucia's roads naturally involve a few mountains here and there, so we can help you find the right level of cycling holiday for you. You can take your cycling holiday at a relaxing pace or you can take yourself off for long distance road bike rides through the mountains. 
Walking Holidays
Not everybody likes two wheels and exploring the area on foot on a walking holiday is a great way to get in touch with rural Spain. Our walking holidays will suit everyone from the leisure walker, who simply wants a few hours out in the countryside, to the keen hiker, who likes to walk for the whole day, clocking up good mileages, walking over some tough terrain and maybe even doing a bit of scrambling up rocky mountain slopes to get to the highest peaks. On a walking holiday in Spain you will be able to walk for miles on warm, sunny days, along quiet paths, with barely another human being in sight. You can get up close to nature, walk ankle deep in wildflower meadows and enjoy the simple peace of the countryside. We will take you to mountain top villages and distant peaks, high up in the remote Natural Parks which surround Ronda and give you memories which will last a lifetime.  
We offer guided walking holidays and self guided walking holidays in Spain to suit your preference. Find the right level of walking for you in our grading for walking holidays in Spain.
Hike + Bike Holidays
We also arrange Hike + Bike Holidays – a unique combination of walking holiday and cycling holiday, where you get to enjoy a little of both.  These are perfect for walkers who want to have a day or two out on a bike or for riders who want to swap their bikes for boots for a couple of days.