Cycling Holidays and Day Tours in Spain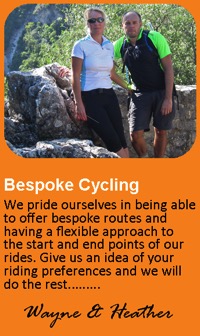 Contact us about bespoke tours
Guided or Self Guided Cycling Holidays and Guided Cycling Day Tours
Our cycling holidays and day tours are the perfect way to explore the unspoilt countryside around the town of Ronda. Peaceful mountain roads twist and turn through the stunning Andalucian landscape between rural villages and historic towns. Cycling on the roads here is a joy; they are generally smooth and traffic free and sweep through stunning areas of hills, mountains, forests and farmland. So whether you are already in the area and wish to do just a day or two of cycling or are planning a cycling holiday, we have something suitable for you. 
Our Leisure Road Cycling Holidays and Guided Cycling Day Tours take things fairly easily, cycling daily distances of 25km to 65km on hybrid bikes with varying amounts of hill climbing - we will help you select the routes which suit your fitness, experience and the hours you like to be on the bikes.
Sportive Tours
For cyclists looking for more of a road cycling challenge, check out our Sportive Road Cycling Tours, with greater daily distances over multiple days and more hill climbing.
e-Bikes for Holidays and Day Tours
We also have e-bikes available for anyone who feels they may need a bit more help with the hills. They are a great option for couples with different cycling ability or fitness. Now one of you can use a hybrid whilst the other takes an e-bike, so you can ride happily together each day. 
We also have some great self-guided day trip routes specifically designed for e-bikes