Hike + Bike Week  
Hike + Bike holidays uniquely offer a mix of walking and cycling, perfect for walkers who want to have a day or two out on a bike or for riders who want to swap their bikes for boots for a couple of days. Cycle and hike your way through the hills and mountains of Andalucia. You will explore the unspoilt countryside and miles of mountain and cross country trails on this combined mountain biking and hiking holiday. 
During your Hike and Bike holiday, you will stay in the historic town of Ronda: fully inclusive, catered holidays are based in our country finca (farmhouse - see below for more details) or you can choose self-catered accommodation or a hotel in the town.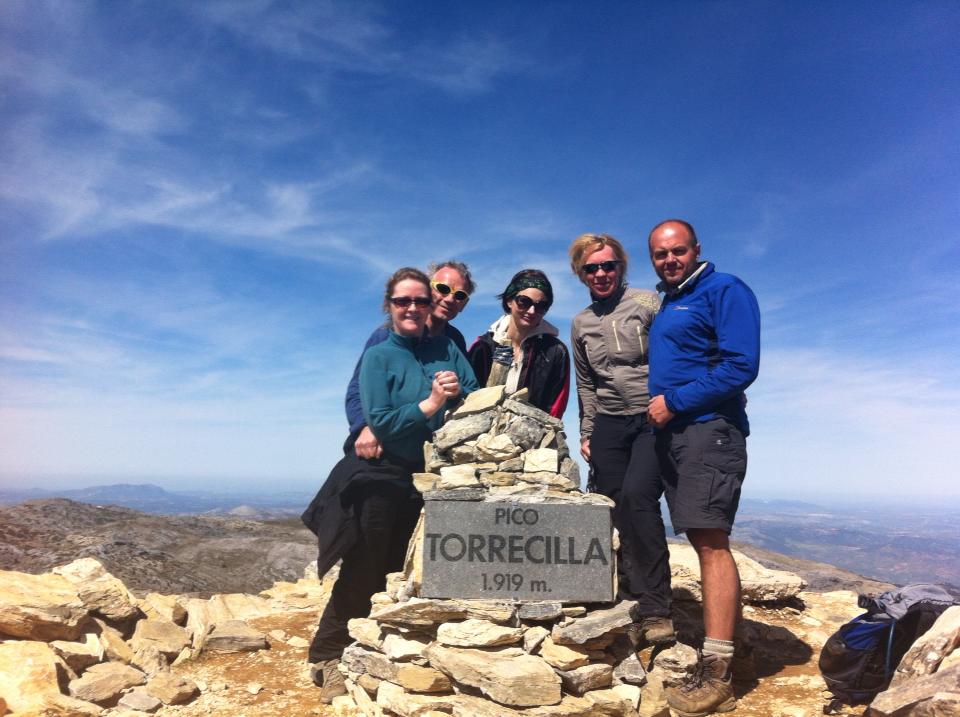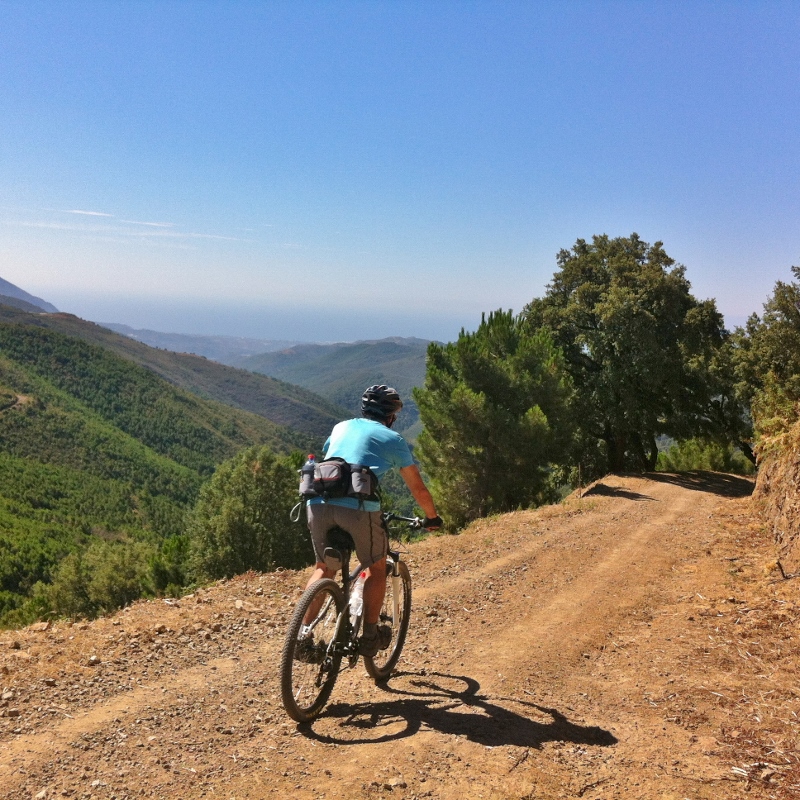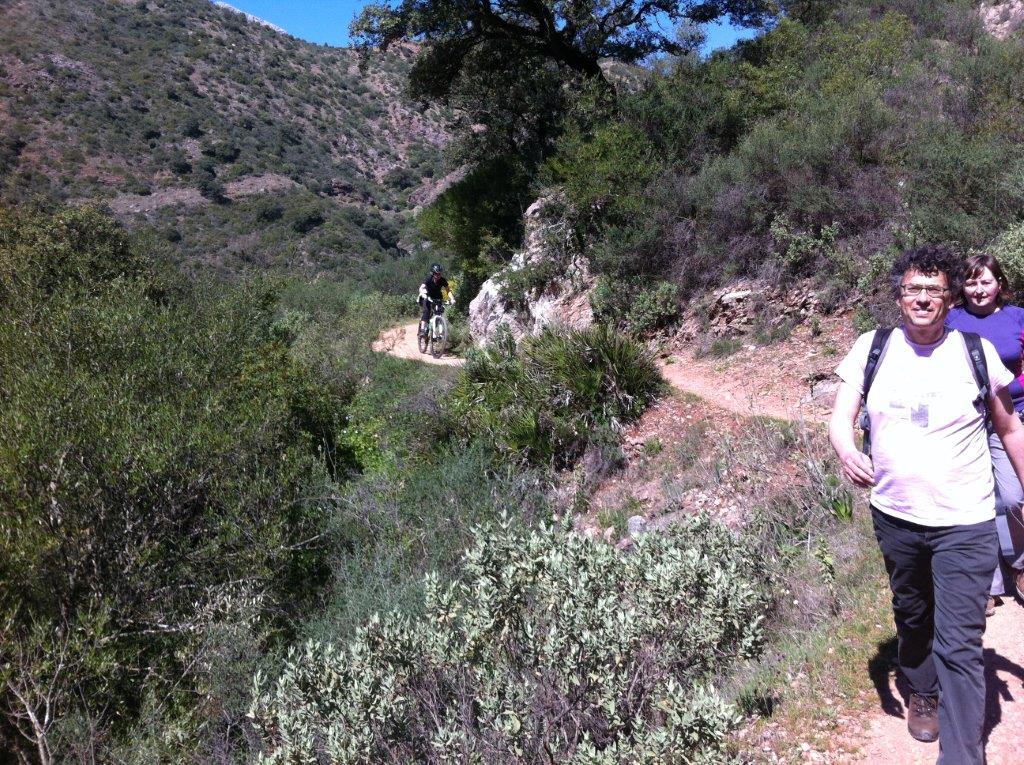 Mixing it Up
On our Hike + Bike weeks, we tend to stick to our Easy - Moderate bike rides (Level 1-2), depending on your preferences and biking experience. The rides do not generally require any specific mountain biking skills; they are mainly off-road and require guests only to be reasonably confident on a bike and happy to ride for a couple of hours in a day. Take a look at a sample itinerary here.
Our Hike + Bike walks are about enjoying the countryside, visiting local white villages and visiting interesting or historic sites, though we can include a more challenging mountain walk or two if you prefer. We can be flexible on level if you let us know what you are looking for. We can also be flexible according to your preferences as to the split of number of days spent walking and biking. Click here for Hike + Bike Photo Gallery.
300+ days of sunshine a year and the natural geography of the area create ideal landscape and conditions for outdoor actives. Dry, dusty trails wind their way through cultivated hills and valleys, surrounded by dramatic mountain landscapes. Lakes, rivers and, ultimately, the Mediterranean Sea provide scenic backdrops and often welcome cooling relief at the end of a long days walk or bike ride. What more could you ask for on your holiday?  
WHAT'S INCLUDED IN YOUR HOLIDAY PACKAGE
---
Accommodation - The Finca
Fully inclusive mountain bike holidays are based in a country finca just 8km from the historic town of Ronda. This beautifully restored Andalucian farmhouse retains all the charm of rural Spanish living, whilst offering you the modern comforts of en-suite bathrooms, ceiling fans / under-floor heating (depending on the season), free WI-fi and satellite television. The finca is surrounded by olive groves and has its own tranquil gardens and a large swimming pool for post ride cooling off. 
Meals and Catering
Breakfast - Spanish hams and cheeses, cereals, fresh breads/pastries, fruit, juices, tea and coffee
Evening meals - Heather cooks and serves delicious, healthy 3-course evening meals on 4 nights of your week-long holiday. Three nights are left free for you to explore Ronda's many restaurants and tapas bars. Click here for Sample Dinner Menu.
There is also a free bar for wines, beers and soft drinks.
Please note that during our peak season June - October, catered holidays in the Finca (guided or self guided) have a minimum booking requirement of 4 people; book for 4 people yourself or if you are less than 4 people, we can either try to join you up with other cyclists/walkers already booked in - just let us know the dates you wish to travel - or we can accommodate you in hotels or self catering apartments in Ronda. 
Ronda
The historic town of Ronda is justly famous for its many sites of interest – the Puente Nuevo (New Bridge), Arab Baths, Bullring and many other beautiful buildings from its Roman, Moorish and Renaissance past. The town also has an excellent selection of bars, restaurants and cafes, so you will never be short of places to eat, drink or simply watch the world go by over leisurely tapas and a beer. The Andalucians love to celebrate, so there are festivals, ferias and local events in most months of the year.  During the summer months, much of life takes place outdoors, so there is always something to see and do.  
---
Our Guides - Safety & Support 
Each day's guided activity is led by one of our guides - British Cycling qualified and Outdoor First Aiders. They have intimate knowledge of the local area so know the best trails and also provide interesting information on the local sights, culture and history as you go. They carry a first aid kit at all times, aswell as a wide range of bike tools and spares to deal with mechanical bike issues.
In order to maximize each day's activity, we do not restrict ourselves to circular rides - some of the best mtb trails head well out of Ronda into the surrounding countryside, so our minibus is available to bring us back to Ronda. The minibus is also available if at any time you find you have bitten off a bit more than you can chew and need a helping hand to get you home at the end of your day's activity. 
---
Bikes 
For our Hike + Bike weeks, we use our of quality 29" wheel mountain bikes. They are easy to ride, have great gearing to help with any climbs involved and hydraulic disc brakes for powerful braking and control.
WHAT'S INCLUDED IN YOUR HOLIDAY PACKAGE
---
Self-Guided Hike + Bike Weeks
Many of our bike rides and walks can be completed on a self-guided basis, so if you prefer a self guided cycling and walking holiday, let us know the kind of distances and difficulty level you are looking for and we will put together a suitable package for you. 
---