Hiking Holidays and Day Tours in Spain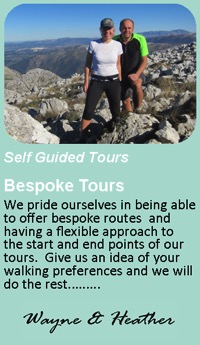 Guided and Self Guided Hiking Holidays in Spain; Guided Hiking Day Trips
Our hiking holidays and day tours are the perfect way to enjoy the stunning, natural landscapes of Andalucia. The unique mountain scenery of Ronda and its nearby Natural Parks provide a Spanish experience which is a world away from that of the busy coastal resorts. The region remains quiet, peaceful and decidedly rural. Following ancient routes between the villages, you will barely see a soul. What's more, the white villages dotted amongst the mountains have changed little in hundreds of years and show you a side of Spain which few visitors get to enjoy.
Routes for all Abilities
From our base in Ronda, we have routes to suit everyone. Leisure walkers can enjoy moderate walks for a few hours out in the countryside. More energetic hikers can head up into remote mountain areas. Here, up on the high mountain peaks, you may be hiking over tough terrain or scrambling up rocky mountain slopes. The reward is amazing views and a terrific sense of achievement.
Join us to hike under warm, sunny skies, getting up close to nature and enjoying the simple peace of the countryside. We specialise in providing great hiking holidays and day tours for memories which will last a lifetime.