Family Biking Day Out in Ronda

Join us in Ronda for a guided family biking day out. We have a selection of day bike rides in the Ronda countryside which are particularly suited to families and kids. These bike rides use local tracks and trails, keeping largely off the roads and away from traffic. They include plenty of interesting sights - equally important for ensuring your kids have a great day out! 
Our Guides
Our fully qualified British Cycling guides will ensure that your family biking day out is safe and flows smoothly. Of course, we will include plenty of stops for food and drink breaks along the way. Our minibus is also on hand for pick-ups and drop-offs to maximise your family cycling day out.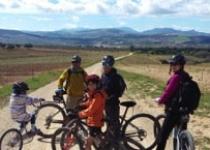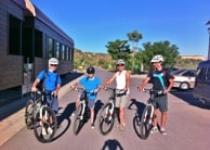 Recomended Family Bike Rides
Via Verde de la Sierra - self guided family bike ride on a disused railway line, through tunnels, over viaducts and past a vulture colony (self guided with support driver - approx 45 mins drive from Ronda)    GRADE - Easy - 36km

Ronda to Cueva del Gato - guided family bike ride via small tracks and trails and over a small stream to a local beauty spot ("Cat Cave") with a cave, small waterfall and clear water pool     GRADE - Easy - 24km

Ronda to Setenil de las Bodegas - guided family bike ride via small tracks and trails to the village of Setenil. Step inside ancient "cavehouses" built into the overhanging limestone cliffs and still used today as shops, homes and cafes. Minibus return to Ronda.    GRADE - Easy/Moderate - 31km
Bikes, helmets and water bottles are included in our prices for your family cycling day out.
Children using a tag along or child seat along with 2 other full price riders are charged at HALF PRICE
Bikes for Kids of All Ages
For adults and older children, our Hike + Bike 29" wheel mountain bikes are perfect. See BIKE RENTAL for more information on our adult bikes.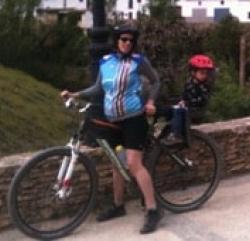 Ages 2 - 5 years will use a child seat, fixed to one of the adult bikes.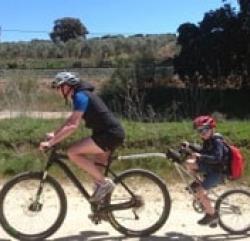 Ages 5 - 8 years will enjoy riding on our tag-along bike which we fix to one of the adult bikes.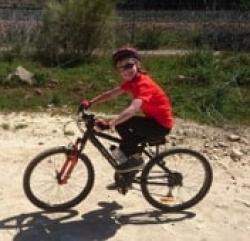 Children ages 8 - 11 years can ride our children's 24" wheel mountain bikes.