MTB Tour - 'Via de la Plata'
Guided MTB Tour of the Via de la Plata in Spain
Mountain Bike Tour from Seville to Salamanca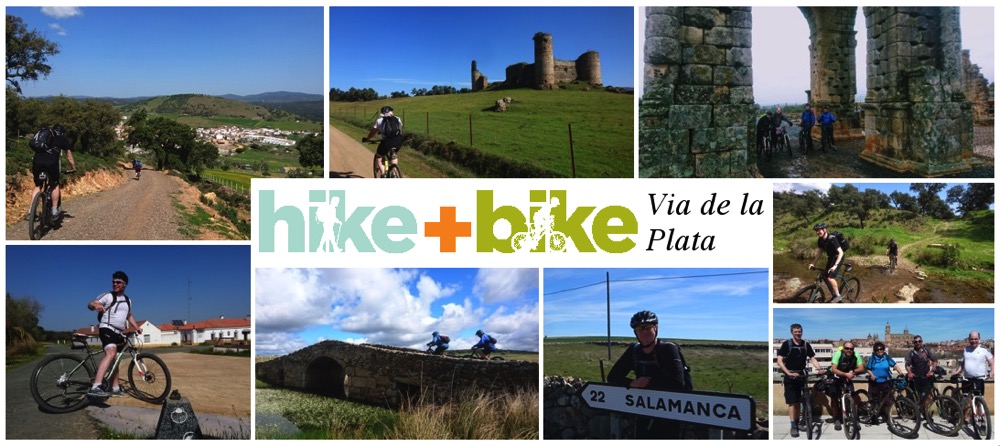 START:  
Sevilla

     FINISH:  Salamanca

Arrival is in Sevilla airport and departure is from Madrid airport.
Duration *

10 days

9 nights

7 riding days

Distance

519 km total

74 km daily avg     ( max 84 km: min 65 km )

Grading

Moderate to Challenging - the route follows ancient Roman way and requires moderate climbing each day (830m daily average).  The Via de la Plata is mostly unsurfaced tracks with sections of single track and a few quiet country roads.  Technical requirement on this route is mostly easy. with occasional moderate sections.

Availability **

All year-round. Choose the dates which suit you. Start any day of the week. 

Price ***

€2285 (€1850 ***) per person based on 2 people sharing a double or twin room (ensuite)

There is a minimum requirement for 4 people on this tour
* Tour duration can be extended by adding rest days along the tour; let us know your preferences when you enquire.
** Check out the local annual weather conditions here. N.B. Supplements may apply during Easter week due to inflated accommodation prices.
*** Solo traveller and single occupancy prices available upon request. Reduced price option using alternative hotels in 3 towns, see "Where you will be staying" below. 
DETAILS

Follow in the footsteps of Roman travellers through Spanish heartlands. 

An epic MTB adventure in Spain, riding from south to north, through historic towns in the provinces of Andalucia, Extremadura and Castille y Leon. Experience changing landscapes as you head north along the ancient trading route and pilgrim's camino 'Via de la Plata'. 

On this tour you will cycle through beautiful and unspoilt countryside, mainly on unsurfaced tracks and some narrow pathways, where roads are unavoidable they are quiet and as short as we can make them. The landscape varies from arable fields, vineyards and olive groves, through rolling hills, lakes and mountains. You will pass through charming and traditional villages and historic towns. You will see grand Renaissance churches and Arab fortresses, roman roads, ampitheatres and aquedaucts along the way. Every day of this MTB tour offers something special.

HIGHLIGHTS

Remote mountain biking and traditional villages of Spain

Enjoy authentic local food and wines

Visit must see towns of Sevilla, Merida, Cáceres and Salamanca

Ride through Andalucia, Extremadura, Castille and Leon provinces of Spain

Enjoy the historically located Parador hotels as your accomodation in Merida, Cáceres and Salamanca

See the changing landscapes and architecture as you travel North through Spain

More photos available here (opens in new window)
Day 1 - Arrival in Sevilla
Transfer to Sevilla from Sevilla airport
Day 2 - Sevilla to Almaden de la Plata

Day 3 - Almaden to Zafra

Day 4 - Zafra to Merida

Day 5 - Merida to Caceres

Day 6 - Caceres to Galisteo

Day 7 - Galisteo to Puerto de Bejar

Day 8 - Puerto de Bejar to Salamanca

Day 9 - Explore Salamanca
Take a well earned rest and enjoy the magnificent city of Salamanca. The city is home to one of the oldest and most beautiful univesities in Spain, founded in 1134 and decorated with intricate carvings. The Plaza Mayor is a colonaded Baroque square, filled with bustling shops, cafes and restaurants. Explore the narrow streets and quiet plazaz in the Old City. You will find lots to see and do here on your last day. 
Day 10 - Depart Salamanca
Transfer to Madrid airport, 2.5 hours drive.
INCLUDED IN OUR PRICES

British Cycling qualified MTB guide (native english speaking)

7 nights accommodation on B&B basis 

Quality hardtail MTB

Full vehicle support

Pick-up at Sevilla Airport & drop-off at Madrid airport (other transfers can be arranged prior to arrival)

Helmet & water bottle

Lunch on riding days is included

WILL I BE FIT ENOUGH?

Our guided tours are designed for enthusiasts rather than Mountain bike experts. There are plenty of ascents throughout the route which will need to be tackled. On the longest days we take things steadily and ensure you have plenty of refreshment/snack stops. 

Just remember that in summer, higher temperatures can make cycling seem harder so we starting earlier aiming to finish before 3pm.

WHERE WILL I BE STAYING?

Your tour goes through a mix of large and small towns and more rural areas, so the accommodation style and standard will vary greatly.

In Merida, Caceres and Salamanca, we book Parador hotels. In the other larger towns, we usually book 4**** or 3*** hotels; outside of these you will stay in countryside haciendas, boutique B&Bs or traditional-style village hotels. All rooms have en-suite facilities. Our selections are based on clean and comfortable accommodation (if sometimes quite simple), friendly owners and staff, a warm welcome, bike storage and sometimes a swimming pool too.