3-Day Leisure Hike, Bike & Bodega Mini-Break
Experience a break from the new normal and immerse yourself in the beautiful sights of the Serrania de Ronda.
This short get-away is designed for those who want to explore Ronda and the surrounding countryside in a leisurely way. Enjoy wonderful accommodation, good food and local wines, an e-bike tour and a county walk, all accompanied by professional hosts and guides. This is an adventurous yet relaxing 3-day get-away, with comfort, indulgence and enjoyment at its heart.
Book for arrival on either a Wednesday or a Friday.
Take a bike ride with a qualified guide through the clifftop town of Ronda "City of Dreams". Take advantage of the benefits of the new revolution that is "e-bikes" - electric pedal-assisted bikes that remove any worries about fitness or riding prowess. Our guides will look after you every step of the way and ensure your time in the Serrania de Ronda reaches its true potential.
Indulge yourself with excellent food and wine. Enjoy dinner in the hotel's restaurant and visit a local bodega, where you will be given a tour of the vineyard, wine tasting and a light lunch selection of Iberian products.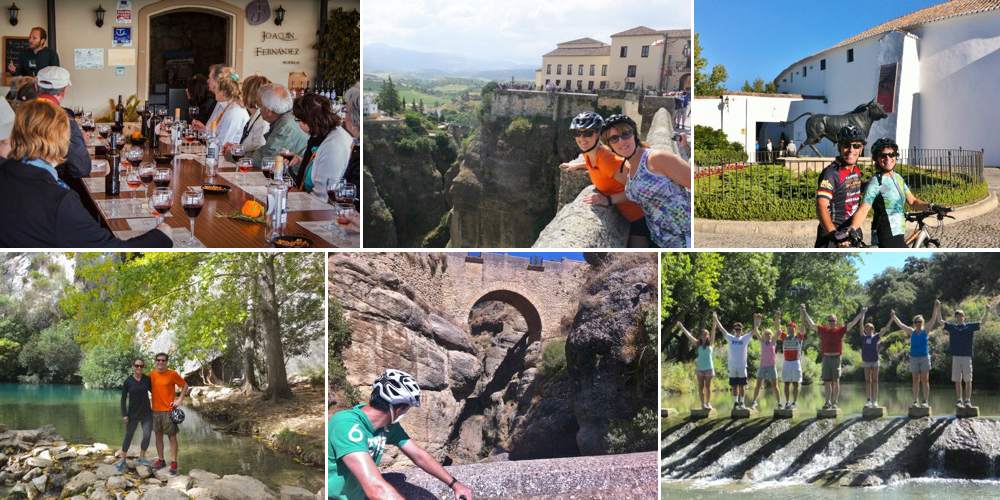 Day 1 - Arrival and Bodega Tour with Iberian Tapas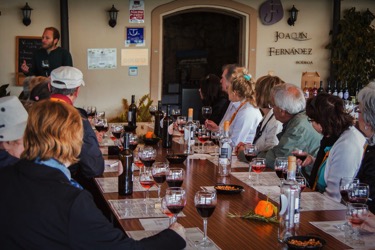 12:00 - Arrival at the Hotel Molino del Puente
13:00 - Bodega Tour and Tapas
A minibus will collect you from the hotel to transport you to the Bodega Joaquin Fernandez, just a 5-minute drive (2.2km) up the hill above the hotel.
The family-run Bodega Joaquin Fernandez, is located above the valley, offering great views of Ronda and the surrounding countryside. A family member will take you on a tour of the vineyard and introduce you to their own organic wines. Tapas of delicious Iberian products accompany your tasting. After your tasting, you can relax and enjoy the views from the vineyard. A minibus will be available to return you to the hotel. If you prefer, you can return on foot, taking a steady pace down the hill to the hotel.
20:00 - Dinner at the hotel restaurant 'La Cascada'
Included in your stay is one evening dinner for 2 with wine. You can choose either of your nights at the hotel to enjoy the included meal.
Of course, you are welcome to eat both nights at the hotel but you may want to try some recommended venues in Ronda town on the other night.
Day 2 - Ronda Sights e-Biking and town tour.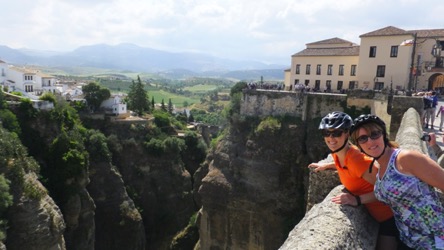 10:30 to 12:30 - E-bike ride "Ronda Sights" (Guided)
We will pick you up from the hotel to take you to the start point of our Ronda Sights e-bike ride. On this easy, guided, e-bike tour, you will ride through rural Andalucian countryside and past some of Ronda's most memorable sights. You will ride on quiet lanes and tracks and enjoy great views of Ronda. 
Ronda enjoys wonderful countryside right on its doorstep, so you are soon amongst olive groves and vineyards, arable fields and ancient holm oak forest. We ride past the remains of a Roman aqueduct and via an ancient water trough, fed by a natural spring. In days gone by this was a valuable source of fresh, clean water for local farmers and travelling drovers, driving their animals down towards the coast. From the fields we look down on to Ronda, enjoying a fabulous view of the old walled town.
We re-enter the town via an old cobbled street which heads below the city walls, riding over the Roman (or Arab) bridge, with views up to the Puente Viejo "Old Bridge". We ride through one of the oldest districts of the town, the barrio San Francisco. In warm weather, the charming central plaza is filled with multiple generations of families and friends enjoying outdoor gatherings, which are so much a part of Spanish life. We head up into the old town, over Ronda's famous bridge and past the bullring, spotting other interesting sights along the way.
At this point, we will stop for a lunch break where you are free to spend a couple of hours enjoying Ronda.
After lunch, we head down into the valley below the town for Ronda's most iconic view - the Puente Nuevo "New Bridge". This stunning, 18th century, two-tiered, arched bridge rises high above us, spanning the 120m gorge which divides Ronda town in two. We continue below the cliffs of Ronda, through the valley and pine forest, to finish down at the hotel.
Day 3 - Walk to the Cueva del Gato and Departure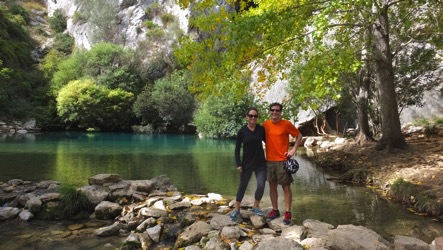 10:00 to 12:00 Easy walk to Cueva del Gato
From the hotel, you will be guided to the local beauty spot 'Cueva del Gato', with its crystal clear water pool and waterfall. From there, we continue along the Rio Guadiaro to Estacion Benaojan for refreshments and optional tapas and then we return you to the hotel by minibus.   
2:00 Checkout
Late checkout is included (2:00pm) to allow you a leisurely morning before returning home.
What is included?

2 nights at boutique Hotel Molino del Puente

Breakfast each morning

Afternoon tea/coffee and cake

One evening dinner for two at the hotel's restaurant 'La Cascada' including a bottle of wine

Bodega tour and Iberian tapas selection

Ronda Sights bike ride with qualified guides

Electric bikes & helmets

Guided walk to Cueva del Gato and Estación Benaojan

All necessary transport to and from the hotel for each activity

Late checkout (2:00 pm) on the final day

 

€640

per couple     

SPECIAL OFFER PRICE

FOR BOOKINGS BEFORE END APRIL

  

€575

(based on 2 people sharing)

Where will you be staying?

Our holidays are located in a family-run, boutique countryside hotel, just outside Ronda, the Hotel Molino del Puente.

The hotel is a beautifully restored olive mill, full of character and comfort, with an excellent reputation for its hospitality and food. You will dine in the hotel's excellent restaurant - Ian, the chef and co-owner, can provide menus for all dietary preferences.

Standard accommodation is for 2 people in a double or twin room with en-suite.