"Serrania de Ronda Hiking Tour"
Self Guided Hiking Tour
Andalucian White Village Tour
START: 
Ronda
FINISH:
Ronda
Duration *

9 days

8 nights

7 hiking days

Distance

99 km total

14 km daily avg  - 

 max 16km 

 -  min 11km

Grading
Moderate - Challenging 

route includes some hills each day (225m - 680m per day) and some narrow and loose rocky paths. The short rope-assisted climb up to Los Riscos requires good overall fitness. Route is almost entirely away from roads, using a mix of drovers' trails, farm tracks and pathways. Some days will be remote throughout. 

Availability **

All year round. Choose the dates which suit you. Start on any day of the week. 

Price ***

€795

  per person based on 2 people sharing a double or twin room (en-suite)
* Tour duration can be extended by adding rest days along the tour; let us know your preferences when you enquire.
** Check out the local annual weather conditions here. N.B. Supplements may apply during Easter week due to inflated accommodation prices.
*** Solo traveller and single occupancy prices available upon request.
DETAILS

Enjoy a self guided Andalucian hiking adventure, walking through beautiful and unspoilt mountain landscapes. Beginning in Ronda, you will head out into the mountains, visiting some of western Andalucia's most charming "pueblos blancos", each with a different character and unique feel. 

You will walk through 2 Andalucian provinces – Malaga and Cadiz - and enjoy a full range of mountain, valley, river and forest landscapes. This hiking tour will give you a delightful picture of rural Andalucia.

This is an area of spectacular mountain scenery with a stunning range of plants and trees. Through the seasons these create an ever-changing tableau of colours and shapes, from hundreds of delicate wild flowers in spring to a burning carpet of chestnut trees in late autumn. Stunning views, relaxed Andalucian life and delicious local produce offer something special on every day of this week-long self guided hiking tour.

HIGHLIGHTS

White Villages:

Ronda - Puente Nuevo bridge, 120m gorge, bullring 
Genal Valley - Cartajima, Alpandeire, Atajate and the blue "smurf village" of Juzcar
Jimera de Libar
Montejaque - zig-zag path and abandoned Hundidero Dam
Grazalema - grand townhouses, gateway to the Natural Park

 

Plus:

Serrania de Ronda mountains - striking rock formations
Genal Valley - limestone mountains and rock formations, chestnut trees
Guadiaro River valley - Mr Henderson's Way
Cueva del Gato - waterfall and pool
Grazalema Natural Park - mountains, holm oak and cork oak forest, Iberian pigs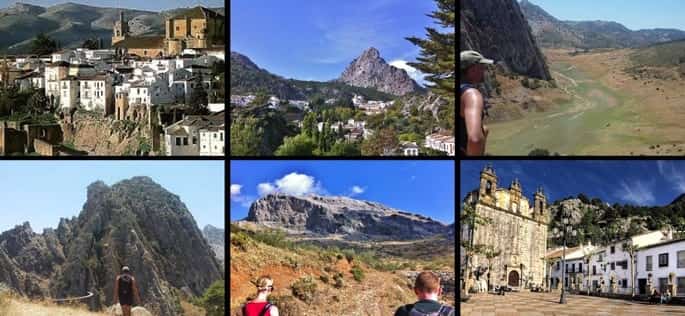 Day 1 - Arrival in Ronda
Welcome to Ronda
Check in to your hotel and enjoy the sights and sounds of the beautiful clifftop town of Ronda. Briefing will take place on your first evening.
Day 2 - Ronda to Cartajima

13km - 553m ascent
Heading south of Ronda you climb steadily up into the craggy limestone mountains of the Serrania de Ronda - make sure you turn round to look back where you have walked, for fabulous views of Ronda. You cross a flat karst plain, created where the limestone has been eroded into tunnels and caves beneath the surface and then collapsed in on itself. Then pass below a sheer cliff edge below the peak of "Cancho de Almola", a great picnic stop, surrounded by intriguing rock formations which reveal the ancient geological twists and folds which created this mountainous ridge. The high point of this hike is at 1,234m before your steady descent, past an old threshing circle and down into the village of Cartajima. The village is set just above the chestnut-tree filled Genal valley; around May-time the trees are covered in bloom and in late autumn the trees turn a stunning russet shade. Overnight in boutique village Hotel Castaños, a walkers' favourite. Note: Bring a picnic lunch on this day as you pass no villages until you reach Cartajima.
Day 3 - Cartajima to Alpandeire

14km - 670m ascent
First stop is the blue village of Juzcar. This was originally painted blue for the launch of the first Smurf movie. Whilst the village is no longer allowed to promote its "Smurfness", its unique blue colour still makes it a distinctive sight amidst the mountains. From Juzcar it's a steep climb (some rope assisted sections) up to the strange limestone towers of Los Riscos. Here, many centuries of winter wind and rain have worn the rocks into extraordinary natural sculptures (a smaller version of El Torcal near Antequera for those that know it), interspersed with threshing circles. Continue though the mountains to finish with a descent to Alpandeire where you will spend the night at La Casa Grande, a comfortable, traditional style county hotel with excellent restaurant. Note: Bring a picnic lunch on this day as you pass no villages after Juzcar until you reach Alpandeire.
Day 4 - Alpandeire to Jimera de Libar

12km - 370m ascent
A welcome descent into the Genal valley and then an uphill section through remote and rugged hills to the tiny village of Atajate; less than 200 residents and the smallest in Malaga province. Its location, on the top of a ridge between the Genal valley on one side and the Guadiaro valley on the other, provides great views. The village offers a couple of nice local restaurants for lunch before you head down through olive groves into the Guadiaro valley and the pretty village of Jimera de Libar, where you will stay overnight.  
Day 5 - Jimera de Libar to Montejaque

16km - 679m ascent
From Jimera village, head down to the River Guadiaro in the bottom of the valley. Then follow an undulating pathway above the river known as Mr Henderson's Way, opposite a railway track. Mr Henderson was the financier behind the railway constructed in the 1890s from Algeciras via Ronda to Bobadilla, giving access from the southern-most part of Andalucia up to Madrid and the rest of Europe. The Jimera to Benaojan section of the railway is one of the most picturesque, cutting through a steep river gorge. There are a few trains every day but not enough to spoil the tranquillity of the walk. There are a couple of lunch options in Benaojan station area or take a picnic to enjoy at the cool oasis of the Cueva del Gato - a cave opening with a year-round waterfall and crystal clear blue pool. Then climb above the cave and back into the mountains, entering the village of Montejaque, via the "zig-zag path". Overnight in village centre hotel.
Day 6 - Montejaque to Grazalema

15km - 538m ascent 
From Montejaque you head into the heart of the Sierra de Grazalema Natural Park, a 52,000 hectare protected area of natural beauty. You will follow ancient routes which cut through the limestone peaks to access the small, remote mountain villages. You will pass through a beautiful and secluded "Hidden Valley", surrounded by holm oak forests which are home to Iberian pigs, wild ibex and deer. Continue on to Grazalema village, formerly one of the wealthiest of the white villages due to its weaving industry. Large porticoed houses around the square lend the village a sense of grandeur, whilst the annual bull run maintains an Andalucian historical tradition. Overnight in village centre; lots of good restaurant options for dinner. Note: Bring a picnic lunch on this day as you pass no villages until you reach Grazalema.
Day 7 - Grazalema to Montejaque

16km - 225m ascent
Return to Montejaque via a different route, following mountain streams along ancient trails beneath the shade of the cork oak forest which covers the hills between Montejaque and Grazalema. Overnight back in Montejaque. Note: Bring a picnic lunch on this day as you pass no villages until you reach Montejaque
Day 8 - Montejaque to Ronda

15km - 536m ascent
Walk to the foot of the abandoned (and dry) Hundidero dam. Stand beneath the dam's towering wall before climbing out of the valley and then dropping back down to the Guadiaro river. A walk through more open countryside, takes you back towards Ronda town, with a final section through the valley beneath Ronda's famous cliffs, gorge and bridge. What a way to finish the week! Note: Bring a picnic lunch on this day or enjoy a late tapas lunch in the old town, where the walk finishes.
Day 9 - Depart Ronda
Safe Trip Home
Check out from your hotel and have a safe trip home or to your next destination.
INCLUDED IN OUR PRICES

8 nights accommodation on B&B basis 

Luggage transfers

Garmin GPS with preloaded route for each day

Anotated route maps

Briefing pack, incl, day-by-day route notes

Village maps

Briefing meeting on arrival

We operate locally to Ronda so support is always close at hand if needed

WILL I BE FIT ENOUGH?

Fitness is hard to judge but as a rule you need to be capable of walking for a minimum of 4 hours in hilly and mountainous terrain. Some descents and ascents are steep and can be on loose or rocky surfaces. Our routes are designed to go into the remotest parts of the Serrania de Ronda, so you will often be well away from "civilisation" for the day. Whilst your main luggage is transferred for you, be prepared to carry appropriate provisions and equipment to see you through each day.

Just remember that in summer, higher temperatures (rising steadily from 2pm) can make walking seem harder so we suggest starting soon after 9am and aiming to finish before 2pm without stopping for lunch.

WHERE WILL I BE STAYING?

Double or twin room with en suite facilities in all locations.

Ronda hotel is normally 4****. In most of the villages you will stay in traditional, family-run Andalucian-style hotels close to the village centre, tapas bars and cafes.

 

All hotels subject to availability. In summer we prioritise hotels with pools.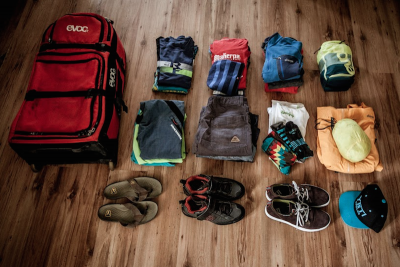 The essential kit to enjoy your walking holiday
Walking boots or shoes
Walking poles - not essential but if you are used to walking with them, then best to bring. Good for stability on loose descents.
Walking socks
Walking shorts and shirts / T shirts
Extra body layers with long sleeves for up on the peaks where it can be windy 
Light waterproof jacket (unlikely to be needed but precaution is best practise)
Neck scarf (to protect from the sun in summer and keep you warm in winter)
Sun hat or baseball cap
Sunglasses
Sun cream and after-sun lotion
2 litre hydration pack or rucksack and water bottles (allow for 1/2 a litre per person per 5km in the hottest months)
Health insurance policy document (for UK travellers, a European Health Insurance Card, EHIC, will give you access to reduced cost medical services in Spain but it is not an alternative to travel insurance. It will not cover any private medical healthcare or costs such as mountain rescue, repatriation costs or lost or stolen property. Therefore it is important to have both an EHIC and a valid private travel insurance policy.  Some insurers now insist you hold and EHIC and many will waive the excess if you have one.  https://www.ehic.org.uk/Internet/startApplication.do
For winter walking
extra body layers with long sleeves (thin thermal tops are great)
light, comfortable trousers
light waterproof/windproof jacket 
neck scarf / snood (great as sweat bands in the summer and for warmth in the winter)
warm fleece and jacket for the evenings