Hiking Holidays and Tours in Andalucia, Spain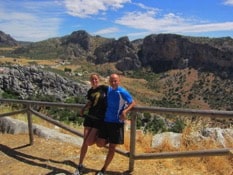 We offer unique guided and self guided hiking holidays and tours in western Andalucia, Spain.
Leave the crowds behind and enjoy the stunning scenery of this dramatic, mountainous region. Climb high peaks or enjoy the peace and quiet of unspoilt countryside and traditional white villages, many of which have changed little in hundreds of years. The mountains provide many stunning vistas for you to enjoy, with dramatic cliffs and gorges throughout the area. Farmland and woodland abound, together with 300+ days of sunshine a year and the freshest air - what's not to like? 
Centre-based or Place-to-Place Tours
Our Centre Based Hiking Holidays are available guided or self guided, providing a range of moderate to challenging hikes each day of 13-20km.  We also recommend our Hike + Bike holidays - the perfect way to explore the area with a mix of hiking days and biking days. 
Our Self Guided Hiking Tours offer a real taste of the local culture and countryside. You will spend each night in a different white village and experience the unique atmosphere and charm of rural village life. 
N.B. The trails in this area are all natural and ungroomed. This means that they can suffer some weather and usage erosion. None of our routes include anything dangerous or requiring climbing equipment but expect stony, rocky and gravelly sections.
Hiking Holidays and Tours Dates and Availability
We are very flexible on holiday dates - tell us when you wish to travel and we will organise your trip to suit.
Click on your preferred hiking or Hike + Bike holiday below to read more:
Hiking / Hike + Bike Holiday Testimonials
"Heather + Wayne .... custom created a 1 day guided bike ride followed by a 4 day self-guided point-to-point hike. We found them to be quick to respond to our queries, endlessly patient, and genuine in their desire to design the best itinerary for us. We had a great holiday in perfect weather with just the right combination of exercise, spectacular and varied scenery, and rest in the white-walled villages along the way."  Des & Denise, Singapore, Hiking Tour & Bike Ride, Jun 2019
" One of the highlights of the week was climbing Torrecilla Peak, everyone enjoyed that day." / "The little villages along the way were lovely and so clean and gorgeous food. As the weather was so good for the entire week, we had fantastic views and scenery." / "What a great week. My hi-light was the last day mountain biking trails which were brilliant fun."  Myra & Friends, Centre-Based Hike + Bike Week, Mar 2019
"Our week staying in Ronda and doing day cycles or hikes was just fabulous. Wayne and Heather came up with an itinerary that was just perfect, we saw and did so much, it was a great way to see Ronda and surrounding areas." Leone & Michael, Australia, Centre-based Holiday, Oct 2016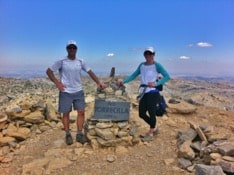 Hiking Day Trips 
Already in Ronda and looking for a day out walking in the mountains? Check out our Hiking Day Trips.