"Sport Road Cycling Tour - ONE"
Self Guided Sport Road Cycling Tour in Spain
Andalucian White Village Tour
START:  
Ronda 

   FINISH:  

Ronda
Duration*

6 days

5 nights

4 riding days

Distance

167 km total

42 km daily avg     (

 max 45km : 

min 37km )

Grading
Moderate - Hill cllimbs every day on this tour but they are kept to a minimum (for this area!) with plenty of scenic touring inbetween. Total tour ascent is 4267m, daily average ascent 1067m.
Availability**

All year round. Choose the dates which suit you. Start on any day of the week. 

Price***

€690

  per person based on 2 people sharing a double or twin room (en-suite)
* Tour duration can be extended by adding rest days along the tour or adding further days of riding to more villages; let us know your preferences when you enquire.
** Check out the local annual weather conditions here. N.B. Supplements may apply during Easter week due to inflated accommodation prices.
*** Solo traveller and single occupancy prices available upon request.
DETAILS

This self guided sportive road cycling tour offers a relatively quick way to explore the mountain roads and countryside of western Andalucia. The self guided route heads out from the hilltop town of Ronda for around 40km per day over 4 days. Whilst there are hills to tackle every day, this is a perfectly do-able road cycling tour for the enthusiastic cyclist who is neither mountain-fit, nor wants to spend hours in the saddle over many days but who still wants to exercise their legs and lungs in stunning scenery. The tour explores varied mountain terrain, dotted with traditional white villages, which make excellent lunch stops and overnight venues. Each night is spent in a different village, each with its own personal character and sights: Grazalema, Zahara de la Sierra and Olvera all provide a warm welcome and relaxing end to each day's cycling.

On this road cycling tour you can expect to get fitter and stonger and burn some calories, whilst immersing yourself in the local culture and scenery.

HIGHLIGHTS

Long twisting mountain ascents and descents, incl Las Palomas Pass

Varied terrain - rocky limestone mountains, forested hills and river valleys

Smooth, quiet, traffic-free roads

Amazing vistas at every turn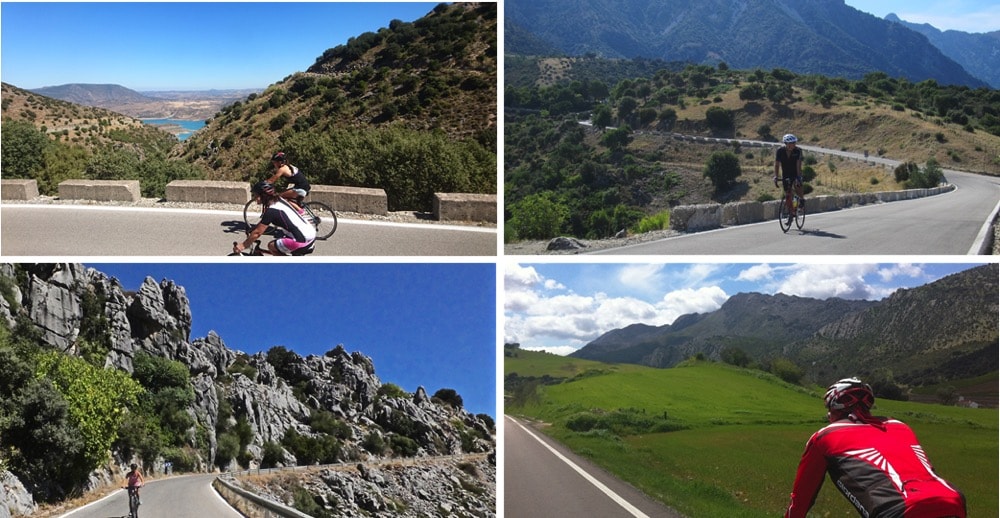 ​
Day 1 - Arrival in Ronda
Welcome to Ronda
Check in to your hotel and enjoy the sights and sounds of the beautiful clifftop town of Ronda. Briefing and bike set up will take place on your first evening.
Day 2 - Ronda to Grazalema

42km - 888m ascent
Riding out from Ronda, you will be in the countryside in no time at all, cycling past vineyeards, arable fields, small streams and on to a local beauty spot, the Cueva del Gato ("Cat Cave"). Take a look at the waterfall and cystal clear pool below before the day's main climb up through the villages of Benaojan and Montejaque. Continue on past an abandoned dam, set into a rocky valley, and then you will be riding on a superb, twisting downhill section through cork oak forests. You exit the forest briefly and then rejoin it for a further 10km. This quiet strech of road undulates through the forest and then opens out to give fantastic views of Grazalema village, set high in the mountains with even higher mountains all around. A final 2km climb takes you up into the village for the night.
Day 3 - Grazalema to Zahara de la Sierra

44km - 956m ascent
Today's ride begins with a short, steep little climb out of Grazalema before you ride down a steady 12km descent. In the opposite direcion, this is a tough climb know locally as "The Beast" – enjoy the knowledge that you are doing the descent, rather than the climb. The route then takes you on through rural countryside, via El Bosque and the pretty village of Prado del Rey (an excellent lunchstop). Undulating countryside leads you to Zahara de la Sierra, a striking village set on a small rocky outcrop above the clear blue waters of a reservoir, topped by the remains of an Arab fortress. Overnight in this charming village – and if your legs are feeling up to it, take a walk up the hill to the remains of the Arab fortress.
Day 4 - Zahara to Olvera

37km - 872m ascent
A lovely steady day, with no tricky or steep climbs, just constant "ups-and-downs" throughout to give you a good workout. You head north from Zahara into "olive-country" - acres of dusty green trees in regimented lines stretching as far as the eye can see; even the steepest slopes are cultivated to make the most of the available land between the limestone hills. You will pass through the sleepy village of La Muela and will regularly spot sections of the Via Verde below you - a cycle route along the path of a disused railway line developed to help transport the olive crops to the coast but never actually used. You finish with a steady 10km climb up into the village of Olvera; another Arab fortress at the top of the village is worth a visit on foot before you enjoy a relaxing evening.
Day 5 - Olvera to Ronda

45km - 1069m ascent
A nice easy downhill to start the day as you drop down to river level and then begin a steady 19km of climbing. You ride through the village of Setenil (a good refreshment stop, with cafes and restaurants built into huge overhanging limestone cliffs), on to tiny Venta de Leche and then continue on up to Acinipo. This is a small detour to visit the remains of a Roman town built high on an escarpment, with a part-restored amphitheatrre. Wlak up the slope above the amphitheatre seats for fantastic views across to the Grazalema valley. From Acinipo you have a stunning 12km descent before the final climb up to Ronda for your final night.
Day 6 - Depart Ronda
Safe Trip Home
Check out from your hotel and have a safe trip home or to your next destination.
INCLUDED IN OUR PRICES

5 nights accommodation on B&B basis 

Luggage transfers

Carbon framed road bike

Helmet & 2 water bottles

Garmin cycling GPS with preloaded route for each day

Anotated route maps 

Briefing Pack, incl day-by-day route notes

Village maps

Briefing meeting on arrival  

We operate locally to Ronda, so support is always close at hand if needed

WILL I BE FIT ENOUGH?

This self-guided sportive tour is designed for enthusiastic cyclists who are comfortable for a few hours on a bike each day and also tackling a few good uphill climbs and twisting descents. However it is the easiest of our road tours and can be done without too much problem by anyone with a reasonable level of fitness. 

Just remember that in summer, higher temperatures can make riding seem harder so we suggest starting soon after 9am and aiming to finish before 3pm.

WHERE WILL I BE STAYING?

Double or twin room with en suite faciities in all locations.

Ronda hotel is nomally 4****. In most of the villages you will stay in traditional, family-run Andalucian-style hotels close to the village centre, tapas bars and cafes.

In summer we prioritise hotels with pools.
What to Bring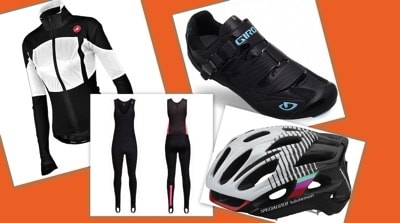 The essential kit to enjoy your cycling holiday
Helmet (bring you own or use ours - free of charge) 
Padded cycling shorts (essential kit for staying comfortable over a few days' riding)
Your own saddle if you prefer - let us know if you are bringing one
Cycling gloves
Cycling tops or T shirts
Sports bra (ladies only!)
Socks
Cycling shoes (let us know if you want clip-in pedals) or trainers - firm soles are best.
Sunglasses
Sun cream and after-sun lotion
Casual clothes, swimwear and footwear
Health insurance policy document (for UK travellers, a European Health Insurance Card, EHIC, will give you access to reduced cost medical services in Spain but it is not an alternative to travel insurance. It will not cover any private medical healthcare or costs such as mountain rescue, repatriation costs or lost or stolen property. Therefore it is important to have both an EHIC and a valid private travel insurance policy. Some insurers now insist you hold an EHIC and many will waive the excess if you have one.  https://www.ehic.org.uk/Internet/startapplication.do
For winter riding
extra body layers with long sleeves (thin thermal tops are great)
leggings or cycling tights
light waterproof/windproof jacket 
neck scarf / snood (great as sweat bands in the summer and for warmth in the winter)
warm fleece and jacket for the evenings