Hike + Bike Holidays
Spring is the perfect time to enjoy one of our Andalucian "Hike and Bike holidays" which explore the Serrania de Ronda in southern Spain.
These holidays offer a mix of walking, cycling or mountain biking activities, pitched at different levels to suit our guests. We offer the option of being guided, self-guided or a mixture of the two. We normally include one rest day in the middle for sight-seeing in Ronda. We are flexible on accommodation too; some of our guests stay in the wonderful Hotel Molino del Puente, just outside Ronda, whilst others choose to stay in one of the many good hotels in the centre of town.
Below is an overview of each of the Hike + Bike holidays which we ran this May, showing the variety of different bike rides and hikes we can arrange. On some of these days we were joined by holidaymakers who just fancied one or two days of activity from our range of day tours. When adding extra people to any activity, we ensure that interests and ability are simiar. Expanding the group keeps things fun and interesting, as our group dynamic can change every day and there is always a new person to chat to or friend to make.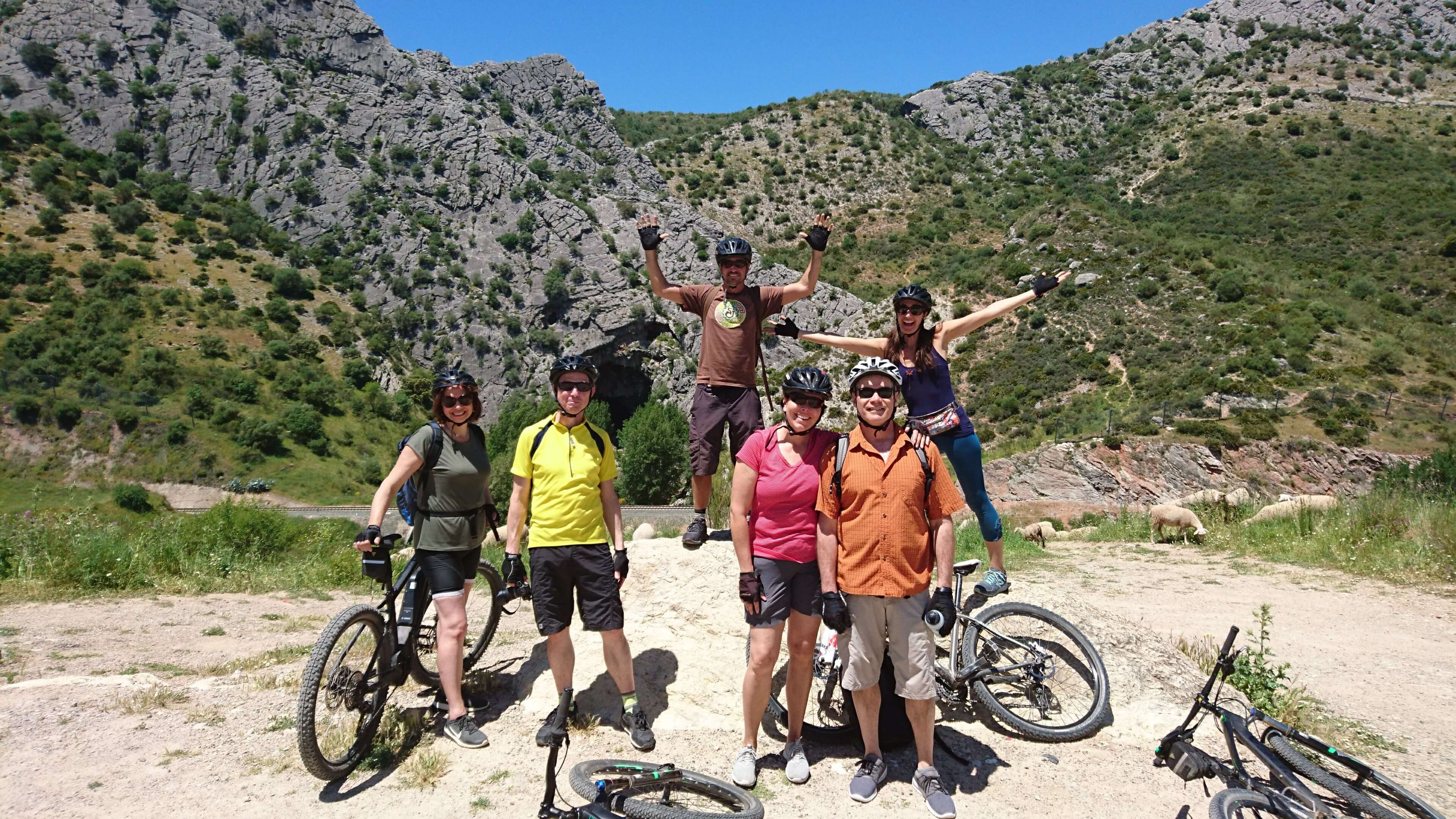 We arrange Hike and Bike holidays in Andalucia throughout the year for a minimum of 2 people,  so if you like the sound of the activities below, please contact us about arranging a holiday for yourselves. And click on the links of  the individual rides or hikes to read more about them and get a feel for what this beautiful region has to offer.
Holiday 1: Easy / Moderate Hike + Bike – Guided – Hotel Alavera de los Baños in Ronda
The Brief: These clients wanted to get out on the bikes but didnt have a lot of off-road or mountain biking eperience and were not keen on too many hills. They also wanted some easy to moderate hikes, as they were prepared for a bit more of a challenge in order to see some different scenery.
Holiday Itinerary: We have a couple of great easy bike rides which mix road and off-road riding and don't include too many hills or require any real mountain biking experience. We use hybrid bikes for our road cycling, as they are easier and more comfortable to ride than drop-handlebar road bikes and are perfectly suited to leisure cycling. We use our minibus to support all these guided trips so that we can get further afield into a variety of different areas, whilst also minimising the amount of  hill-climbing.
Bike Rides:
Via Verde de la Sierra – a scenic, easy ride of 36km on a disused railway line, through tunnels, over viaducts and past a vulture colony, all on a designated cycling / walking route, without traffic – sometimes with accompanying goats!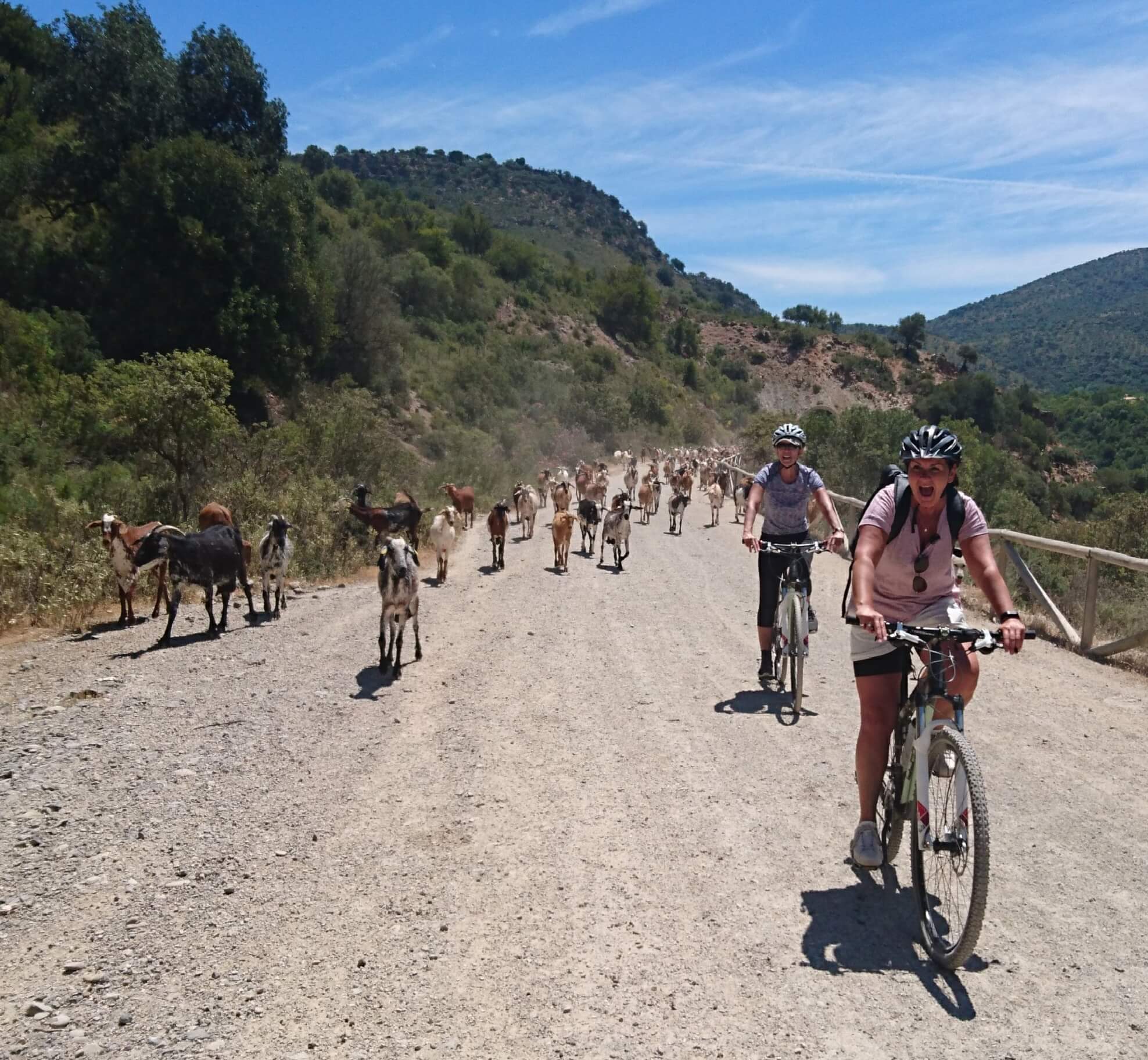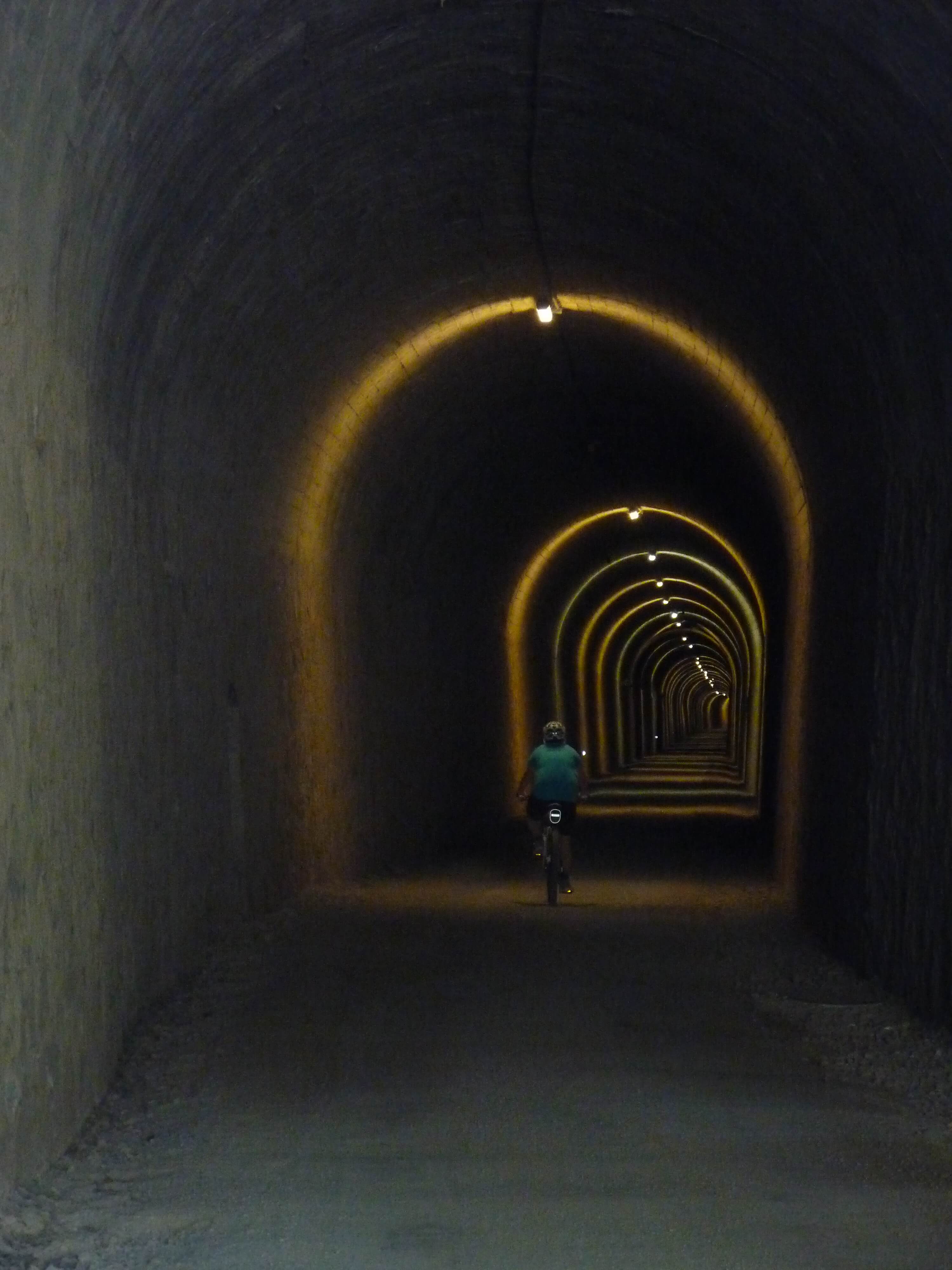 Setenil de las Bodegas -  an easy 30km mtb ride which uses a mix of small tracks, easy trails and some small sections of quiet country road. Finishes in an unusual village which has been built into the overhanging limestone cliffs of a deep river valley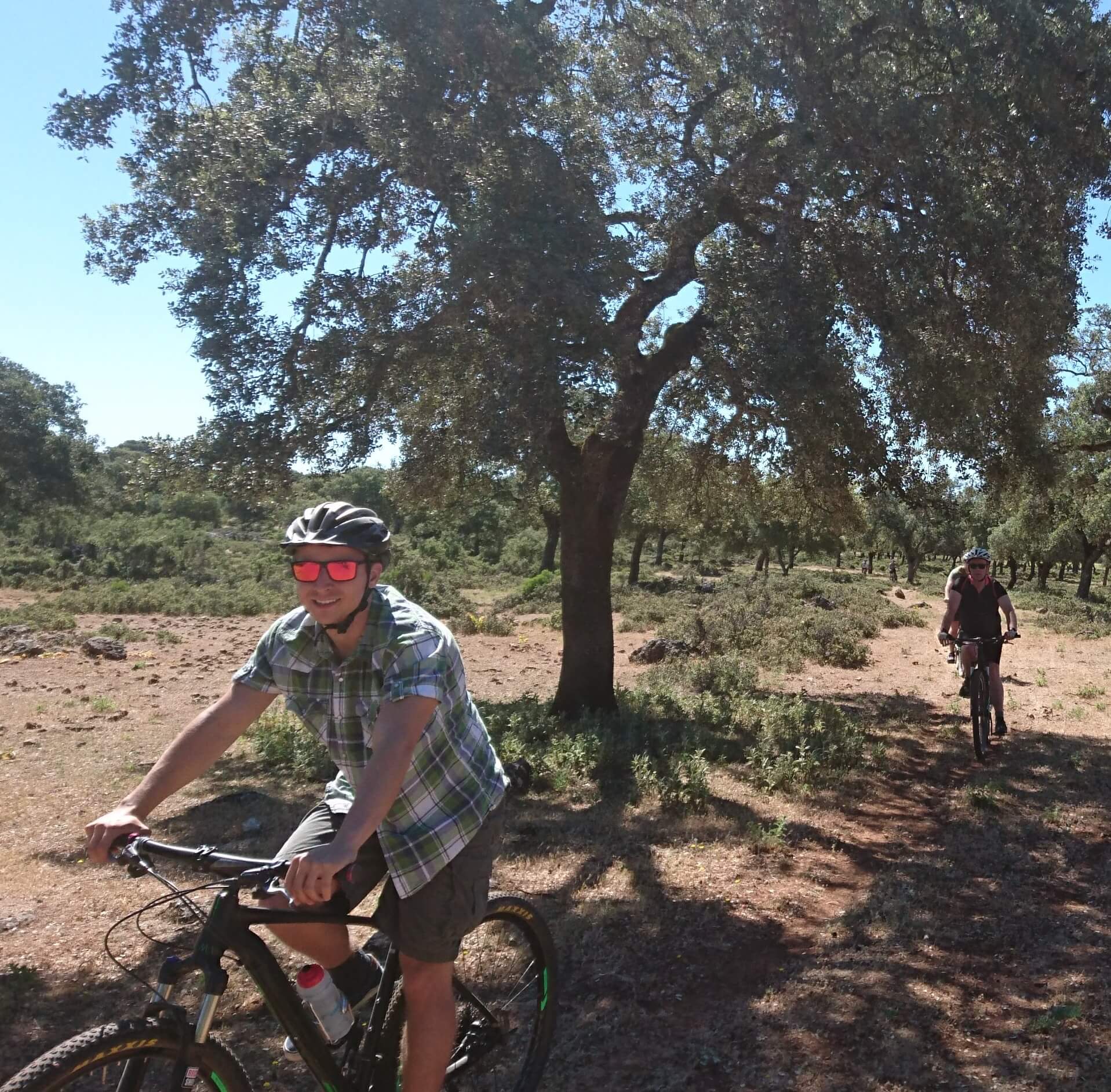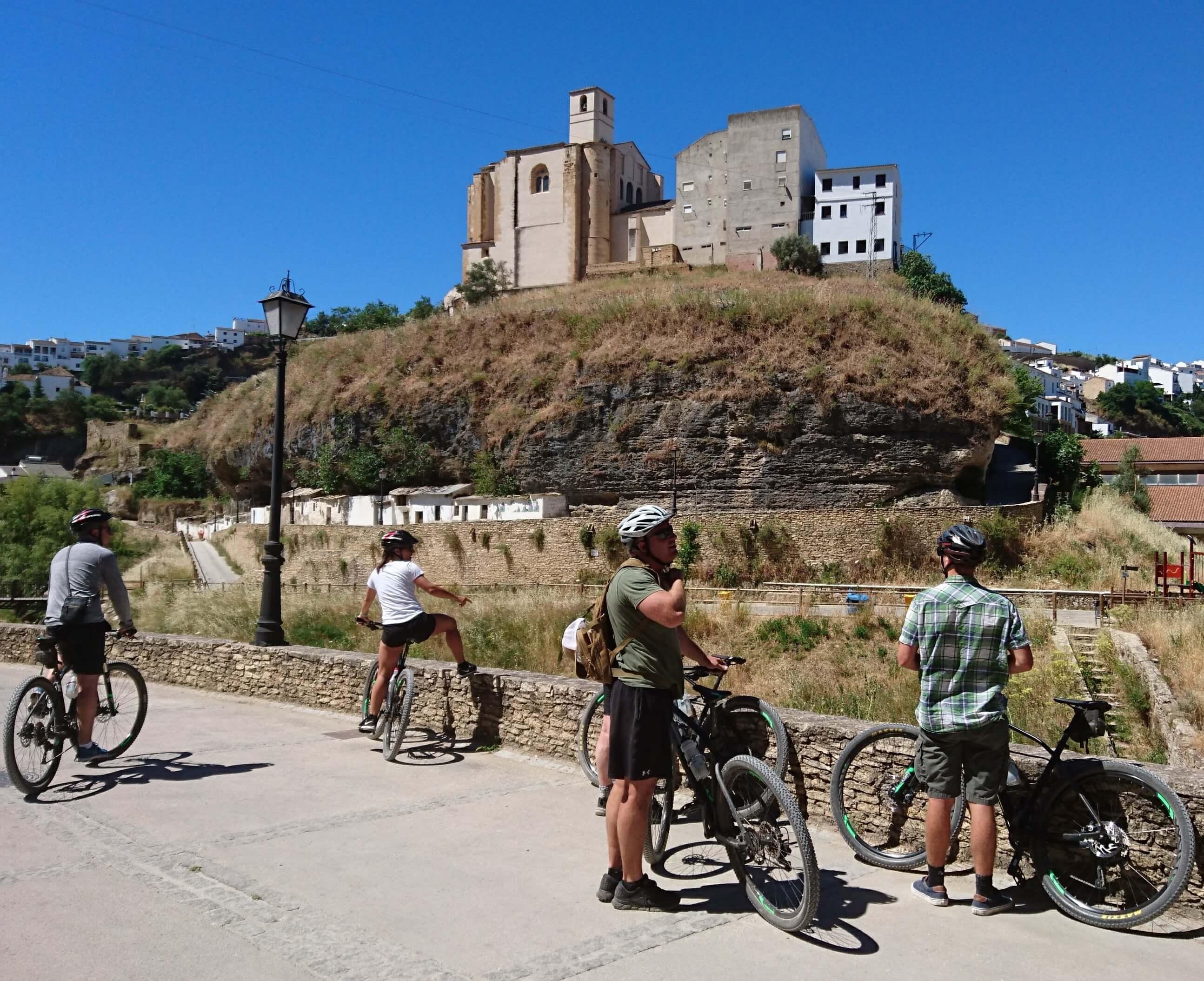 Genal  Valley Views – a 25km road ride heading from Ronda out to into the remote mountains of the Genal Valley. Includes a climb out of Ronda but then a terrific twisting mountain descent to the village of Jimera Estacion where we finish at local Bar Allioli, well-renowned for its excellent range of beers, homemade burgers and live music.
Hikes:
Cueva del Gato – a 14km moderate walk on quiet tracks and pathways from Ronda out to a local beauty spot - the end of a 7km underground cave system, where a year-round waterfall drops into a crystal clear pool of water. A lovely walk which usually finishes with a delicious lunch at the Mollino del Santo restaurant.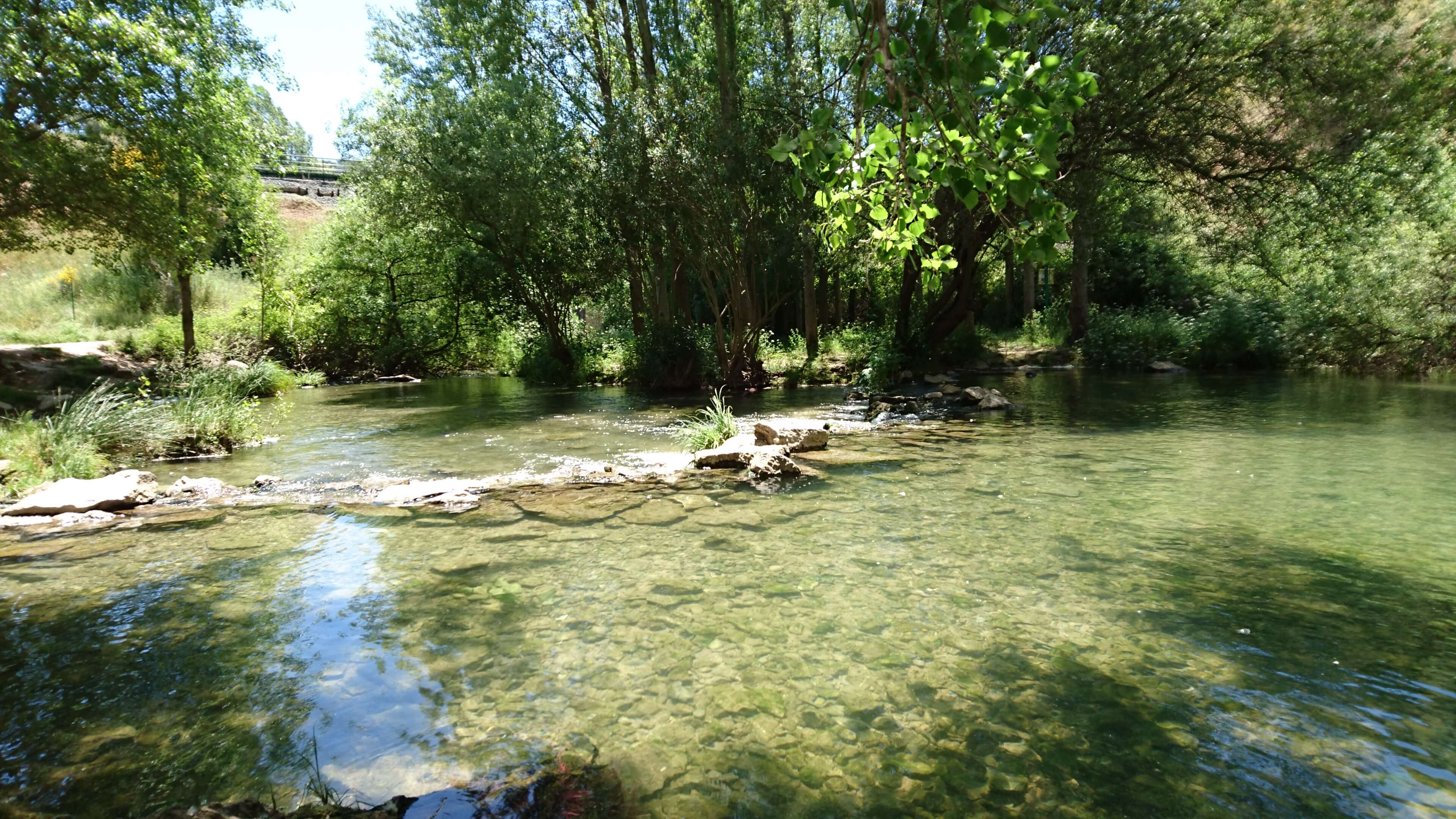 Cartajima to Ronda  - a 13km moderate+ walk (probably the hardest activity this week),  heading up on barely used paths through remote countryside, over a dramatic limestone mountain and down directly into Ronda - rocky terrain and stunning views.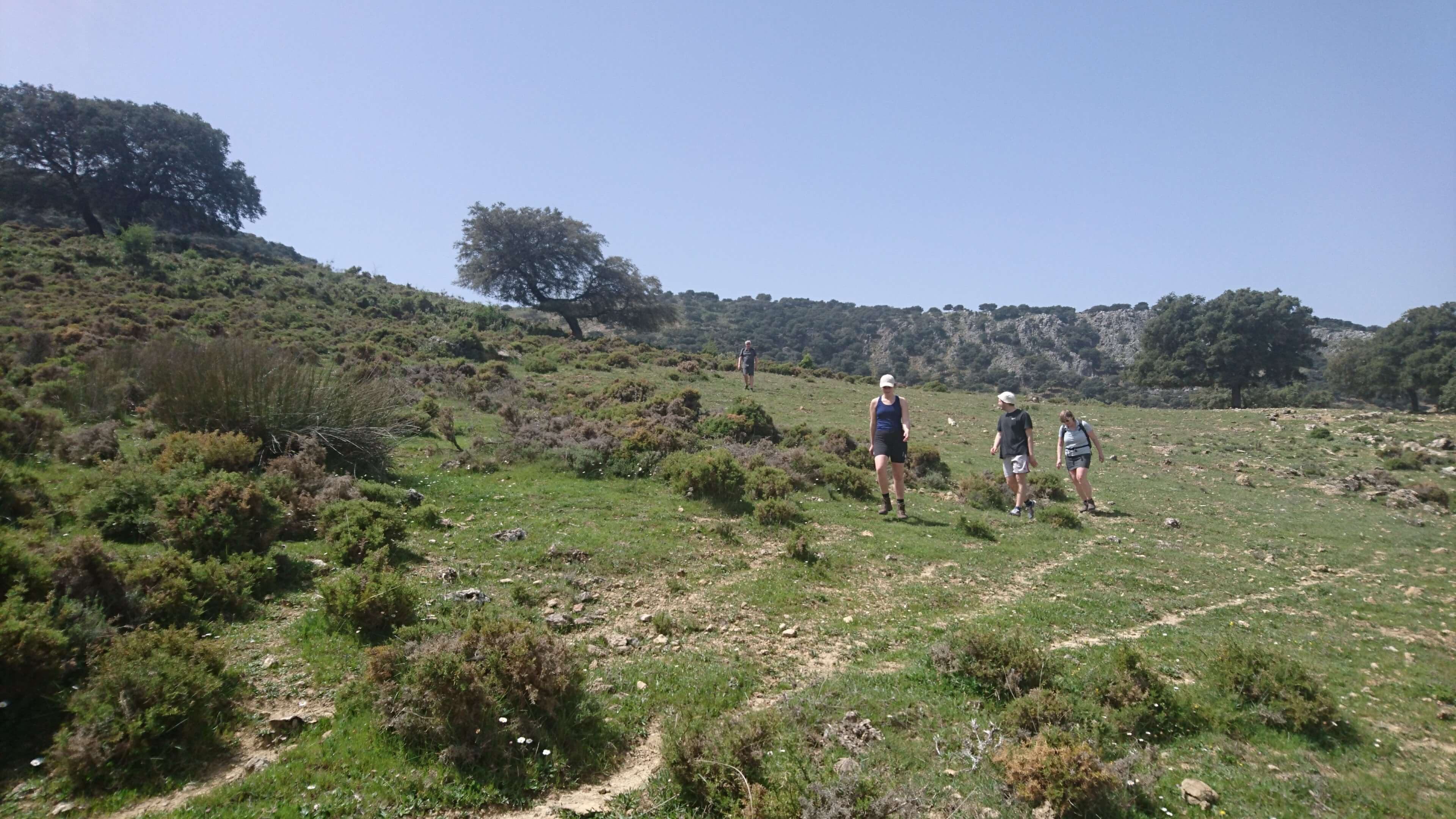 Altogether, this hiking and biking holiday offered a great mix of scenery and terrain, whilst keeping the difficulty at a lower level.
Holiday 2: Moderate / Challenging Hike + Bike – Self-Guided – Hotel Molino del Puente
The Brief: These guests were looking for a week of self-guided hiking and biking activities. They requested long walks and are keen, quite strong cyclists, so wanted moderate to challenging bike rides. Their preference was for road cycling, as long as the routes were on quiet roads, without too much traffic. They chose self-guiding as they prefer to take things at their own pace, stopping for picnics, lazy lunches or extra sightseeing along the way. N.B. Our self-guided guests don't automatically get the same vehicle support as the guided guests, although this can be arranged. We provide route maps and a simple Garmin GPS, with the biking and hiking routes pre-loaded. Just turn it on and follow the line on the screen. They stayed at the Hotel Molino del Puente, just outside Ronda - the routes were designed to take them from the front door of the hotel each day and bring them back there at the end.
Holiday Itinerary: For this holiday we mixed some of our popular, regular routes with some additional bespoke routes which we created to suit the distances and difficulty requested. The guests also decided to enjoy an easier day with other bikers on the Via Verde.
Bike Rides:    
Acinipo & Setenil Circular – a 46km road ride with 1100m of climbing which visits the remains of a Roman town on the hills outside Ronda and then returns via the village of Setenil de las Bodegas.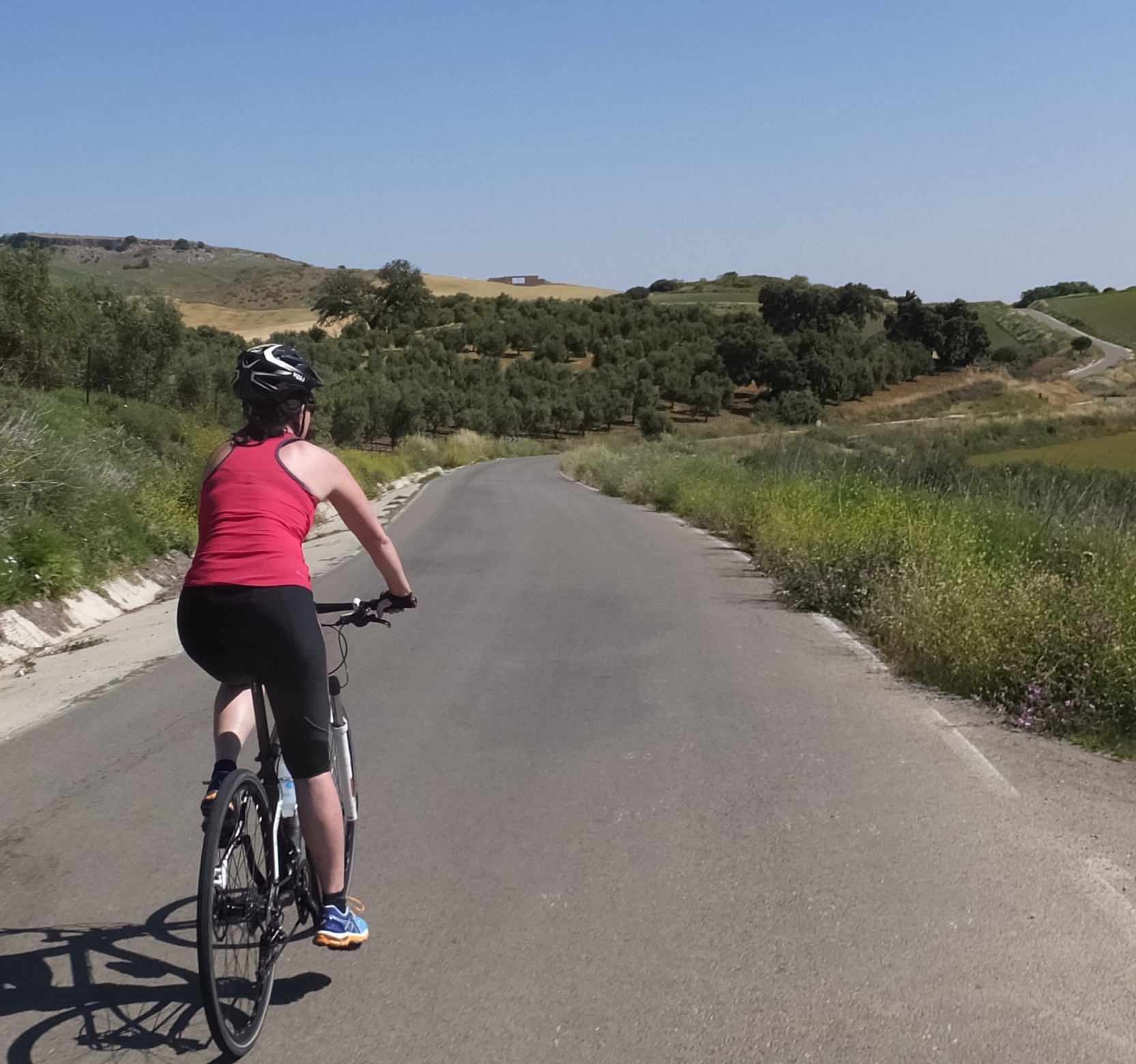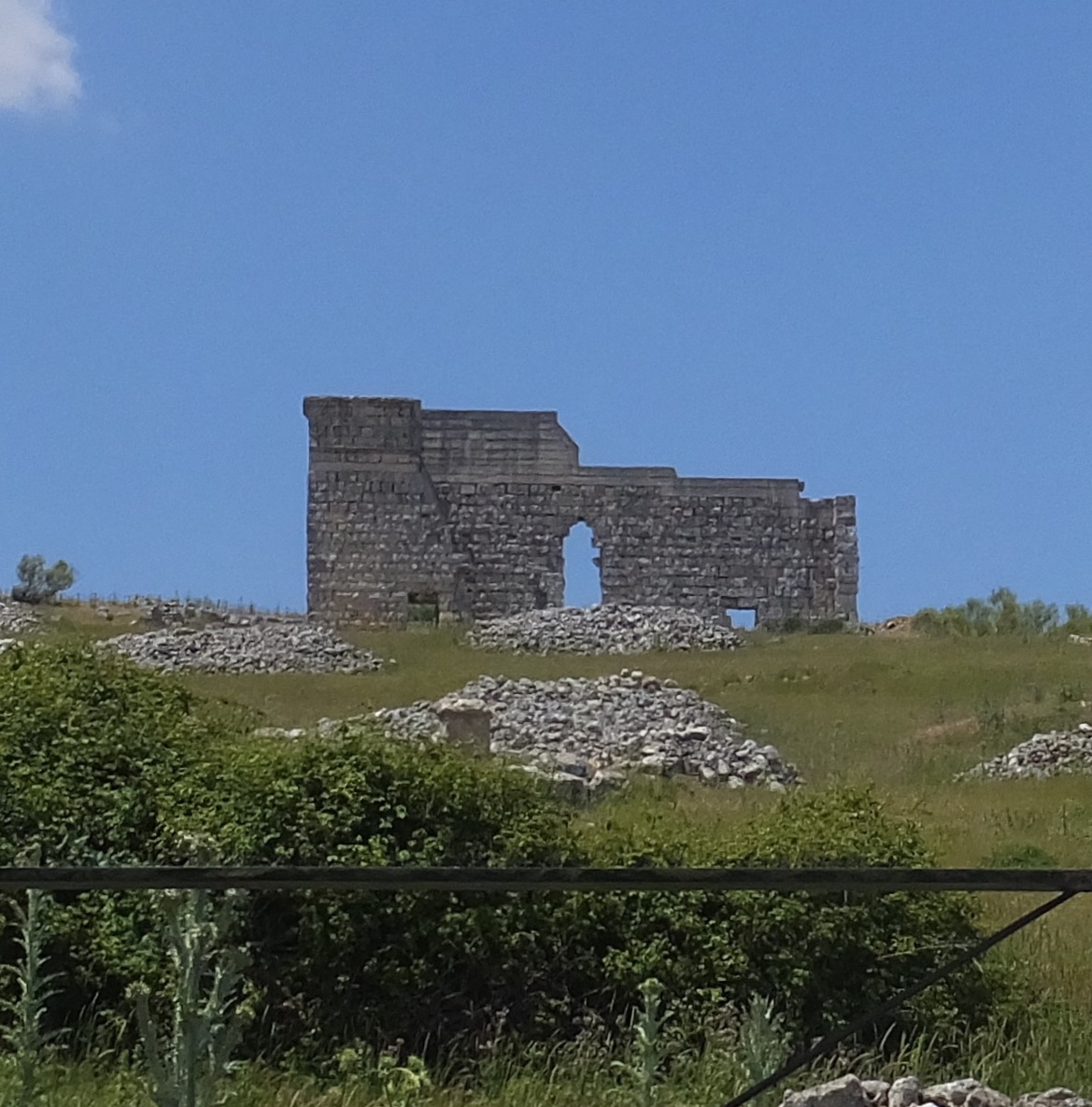 Genal Valley Circular – a bespoke, extended version of the guided road ride which we did in the previous week, with more distance and a lot more hill climbing. This ride continues on from Jimera on a stunning circular loop through the mountains for a total of 53km and nearly 1400m of climbing.
Grazalema Circular – a bespoke 51km road ride with nearly 1100m of climbing, heading through cork oak forests  to the Grazalema Natural Park – lots of climbing and some fantastic long mountain descents.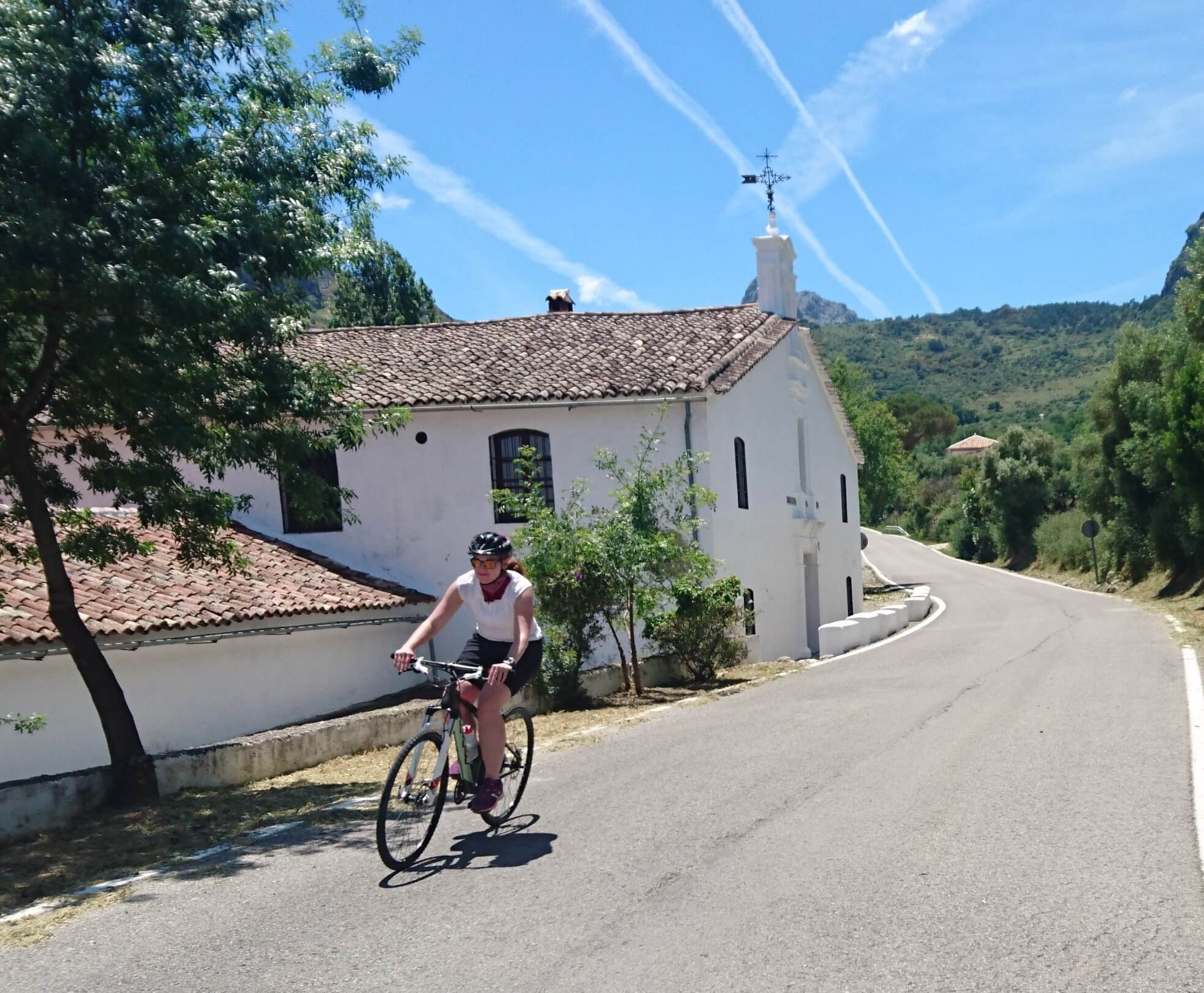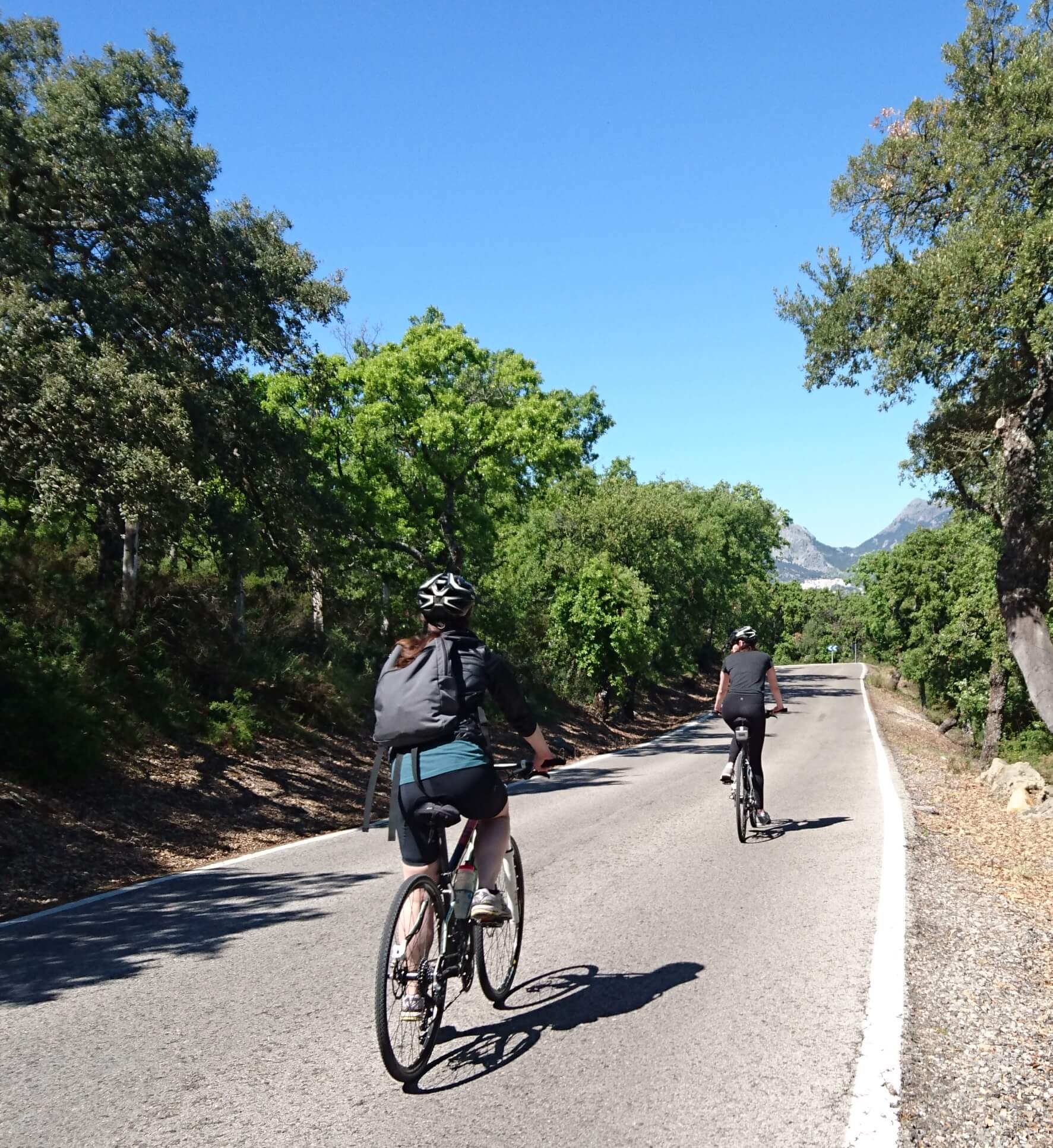 Via Verde de la Sierra – our 36km ride on the disused railway line
Hikes:
Juzcar to Ronda – an extended version of the guided Cartajima walk, starting further afield at the village of Juzcar. This village is unusually painted bright blue as the result of a now-defunct link with Sony pictures and the Smurf movies. Whilst the Smurfs can no longer be mentioned for legal reasons, the blue buildings and one giant Smurf statue which got left behind still keep the visitors passing through!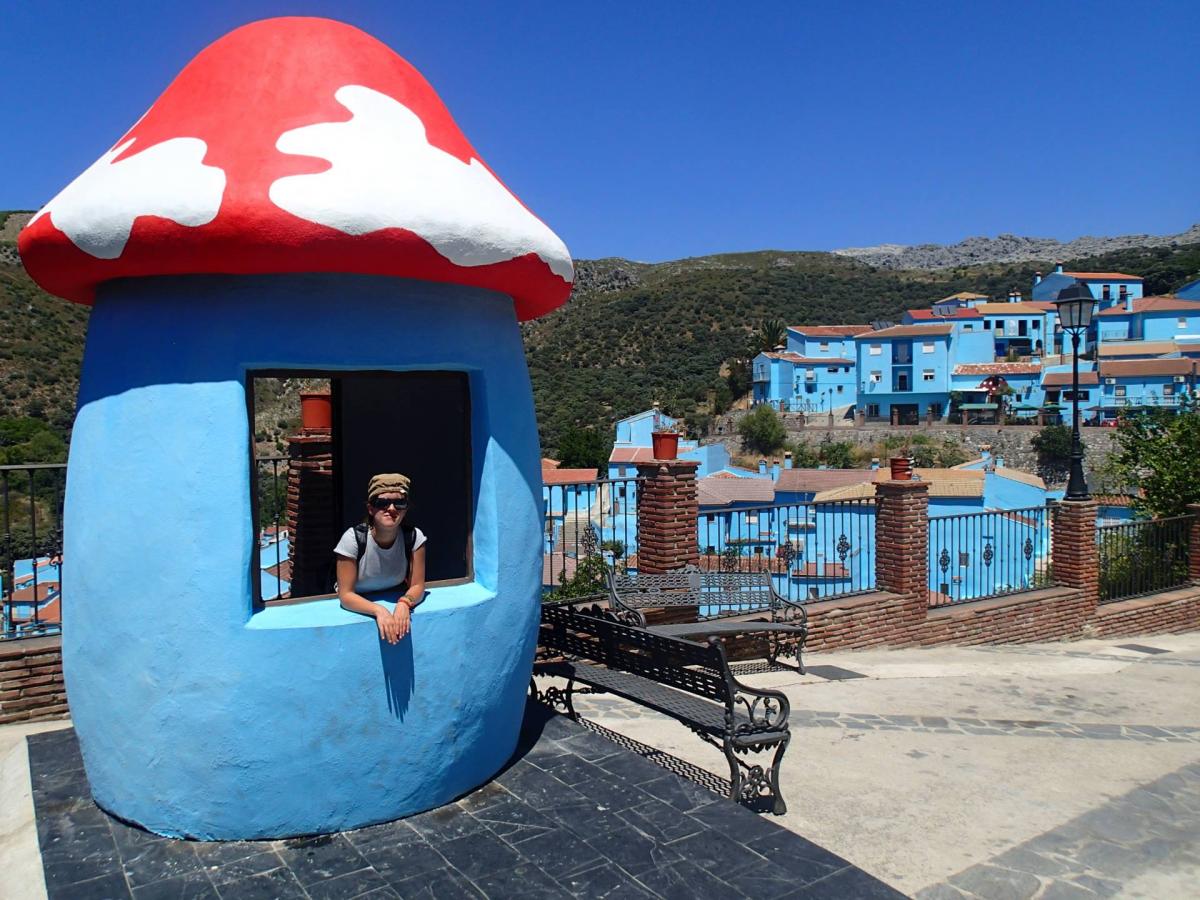 Montejaque Circular – an 18km bespoke loop through the mountains to a charming white village and back via an abandoned dam. This includes the chance to walk right up to the dam wall where there is generally no longer any water.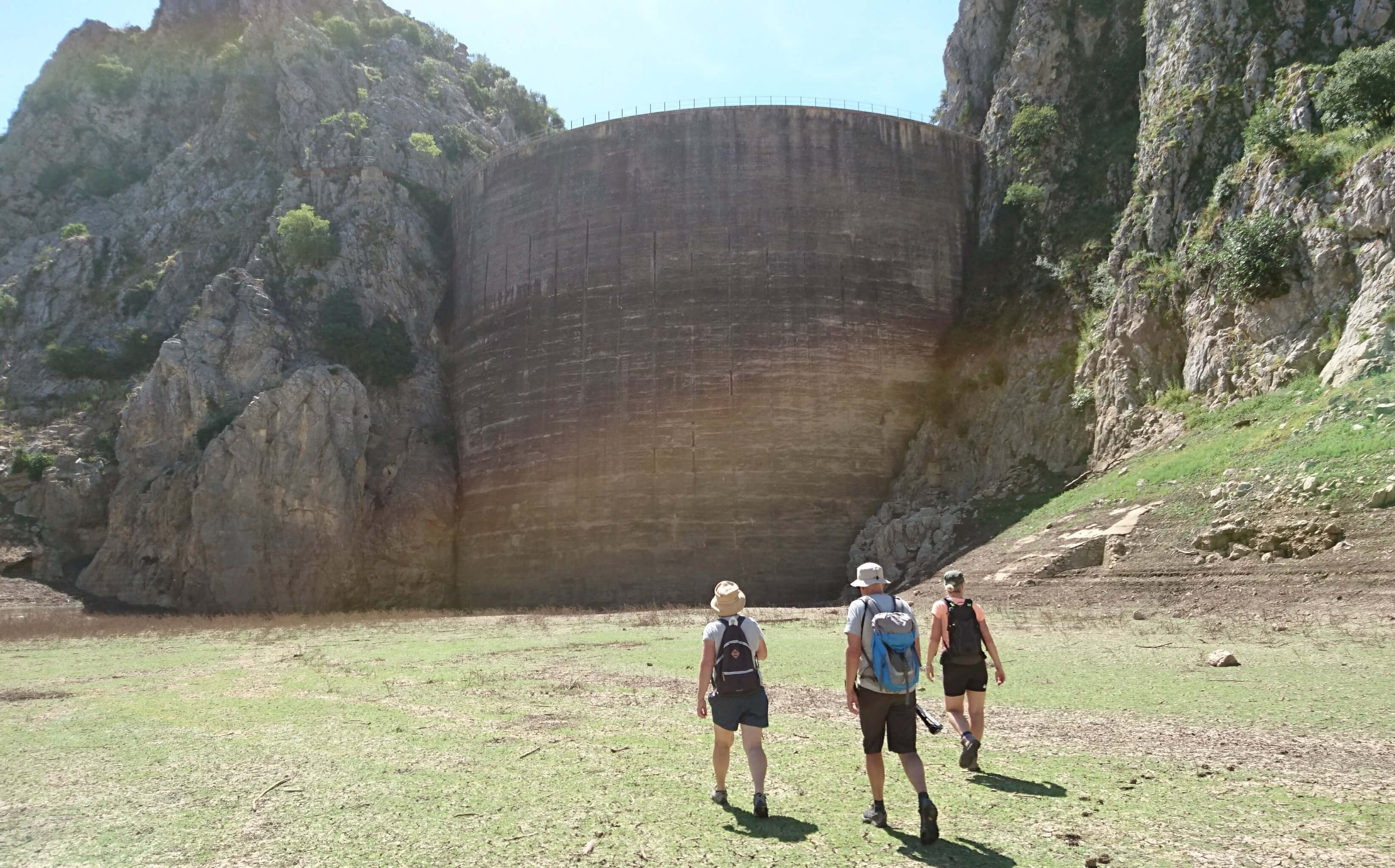 This hiking and biking holiday travelled north, south, east and west of Ronda, exploring an extensive area of varied forests, mountains and river valleys. Most of the roads on the cycling were quiet and pretty much traffic-free – it is worth noting that drivers are very respectful to cyclists thoughout this area.
Holiday 3: Easy / Moderate Hiking plus 1 day biking  –  Guided – Hotel Molino del Puente
The Brief: These guests were more hikers than bikers and had limited time to spend in the area, they requested an emphasis on hiking and just one easy bike ride along the Via Verde. This was no problem to accommodate and just reflects the flexibility which we like to offer. They also wanted to stay in the peace and quiet of the Molino del Puente hotel and enjoy the hotel's fabulous food for the week – we highly recommend it! 
Holiday Itinerary: Browsing through our range of regular hiking day trips, these guests selected three walks that particularly appealed to them. We adapted one of them so that we walked directly back to their hotel – this turned out to be a hot day, so it was perfect to be able to jump straight into the swimming pool at the end, whilst drinks waited on the terrace!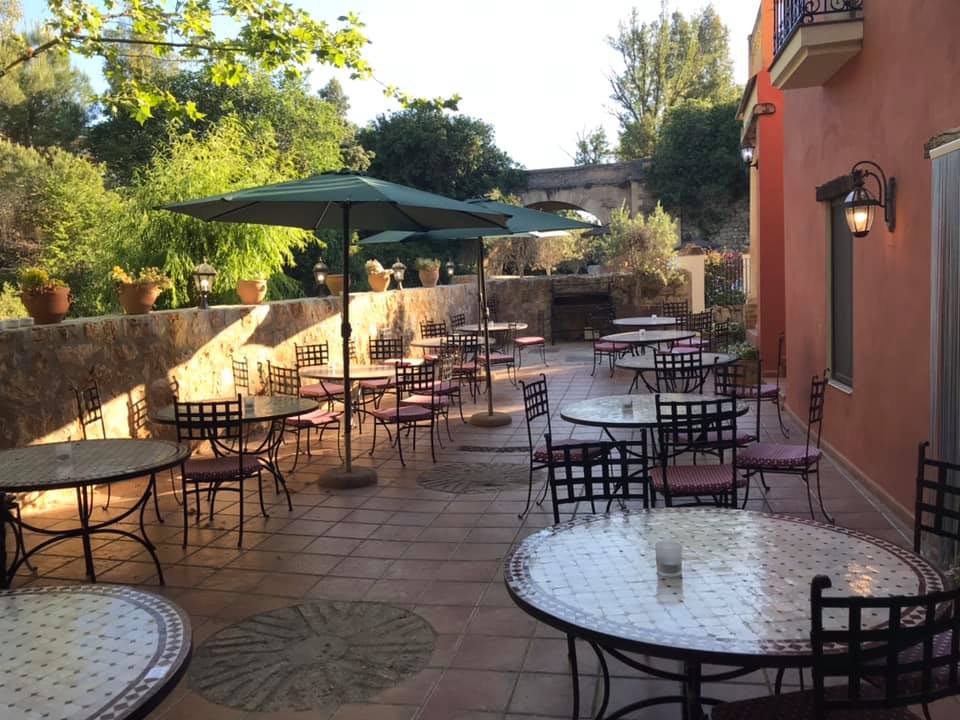 Hikes:
Grazalema to Montejaque – a 17km moderate walk through the heart of the Grazalema Natural Park between two quite different mountain villages – quiet, secluded pathways though holm oak and cork oak forest, following a small mountain river full of frogs and turtles and passing free-ranging cattle and black Iberian pigs.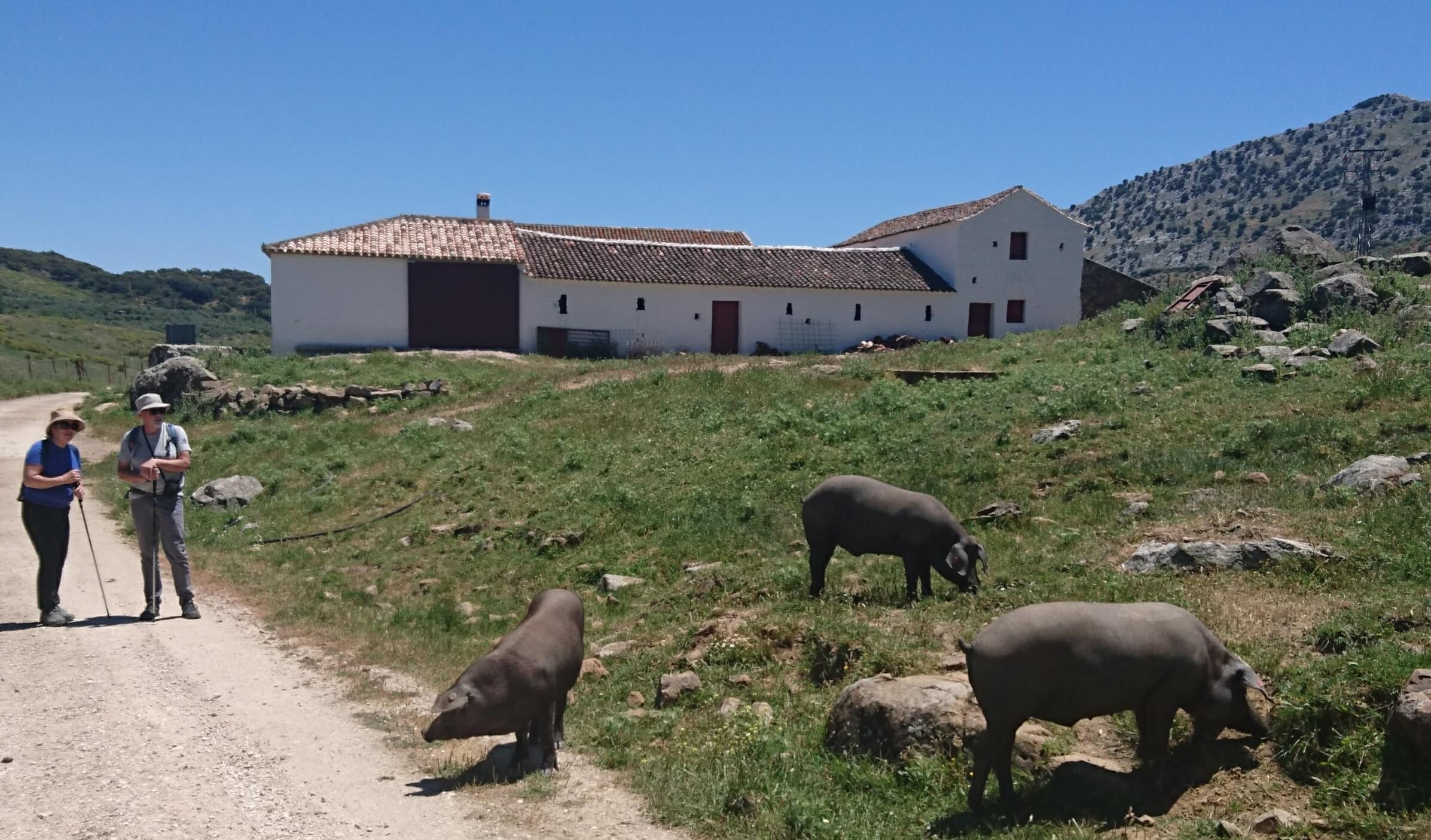 Cueva del Gato– our moderate 13km walk to the Cat Cave, including lunch at the Molino del Santo
Montejaque to Hotel Molino del Puente – a bespoke 11km route which first took a circuit around the olive groves and mountains above the village and then headed back down through the mountains on hidden pathways directly to the hotel.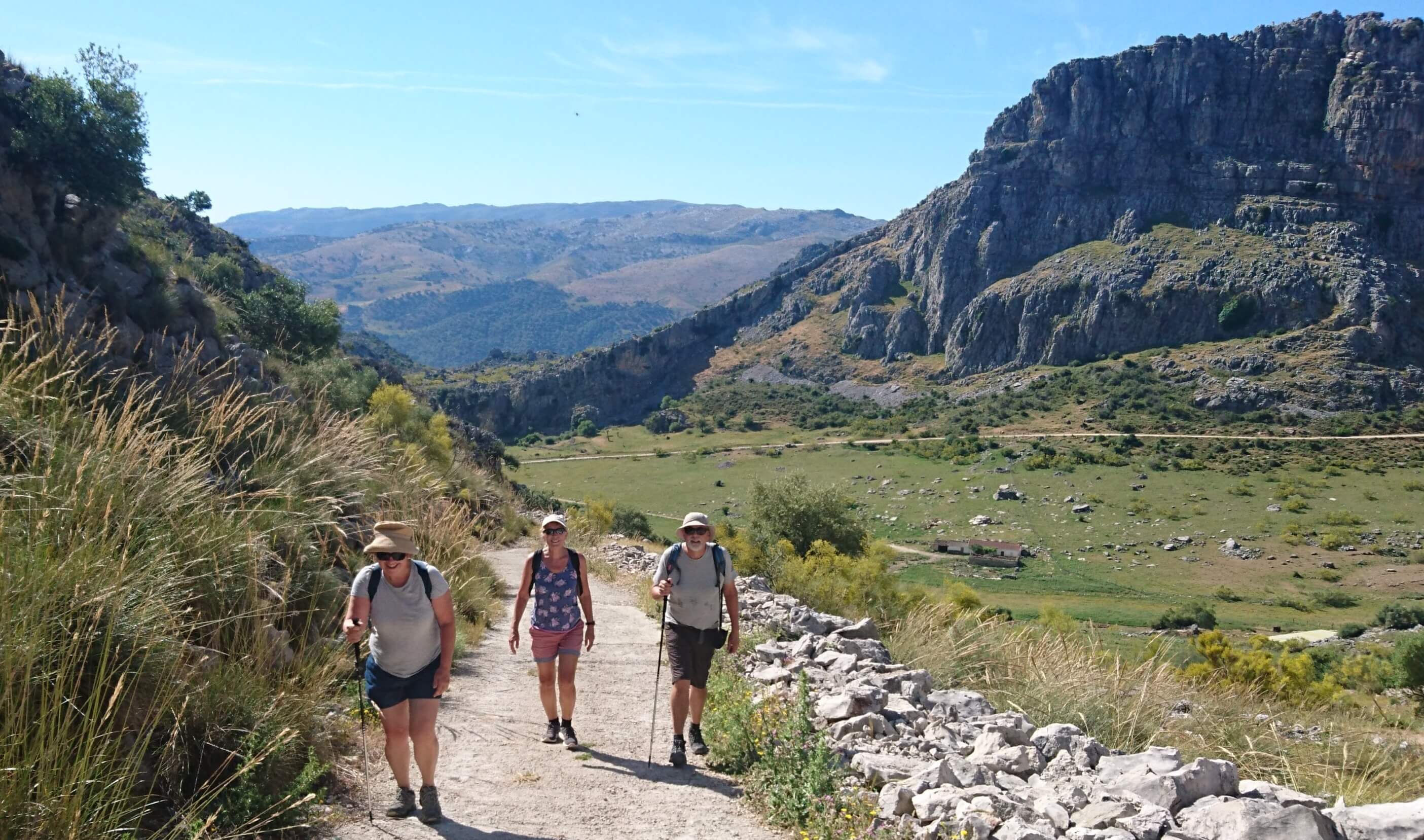 This holiday really demonstrated the variety of countryside you can explore on foot in close proximity to Ronda.
Holiday 4: Moderate Hike + Bike – Self-Guided – Place-to-Place
The Brief: These guests were interested in an extended self guided holiday, enjoying the local countyside and taking in some of Andalucia's iconic towns and white villages. They wanted both hiking and biking and to overnight in different locations but didn't want to move on each day, allowing time to relax and to explore the places they were visiting.
Holiday Itinerary:  We put together a bespoke 14-day hiking and biking holiday, which mixed some of our regular day trips with some local exploring, rest days and also our popular cycling tour from Ronda to Seville.
Hikes:
Grazalema Circular – a local 8km loop into the mountains directly overlooking the village, passing an abandoned chapel and beautiful mountaintop reservoir.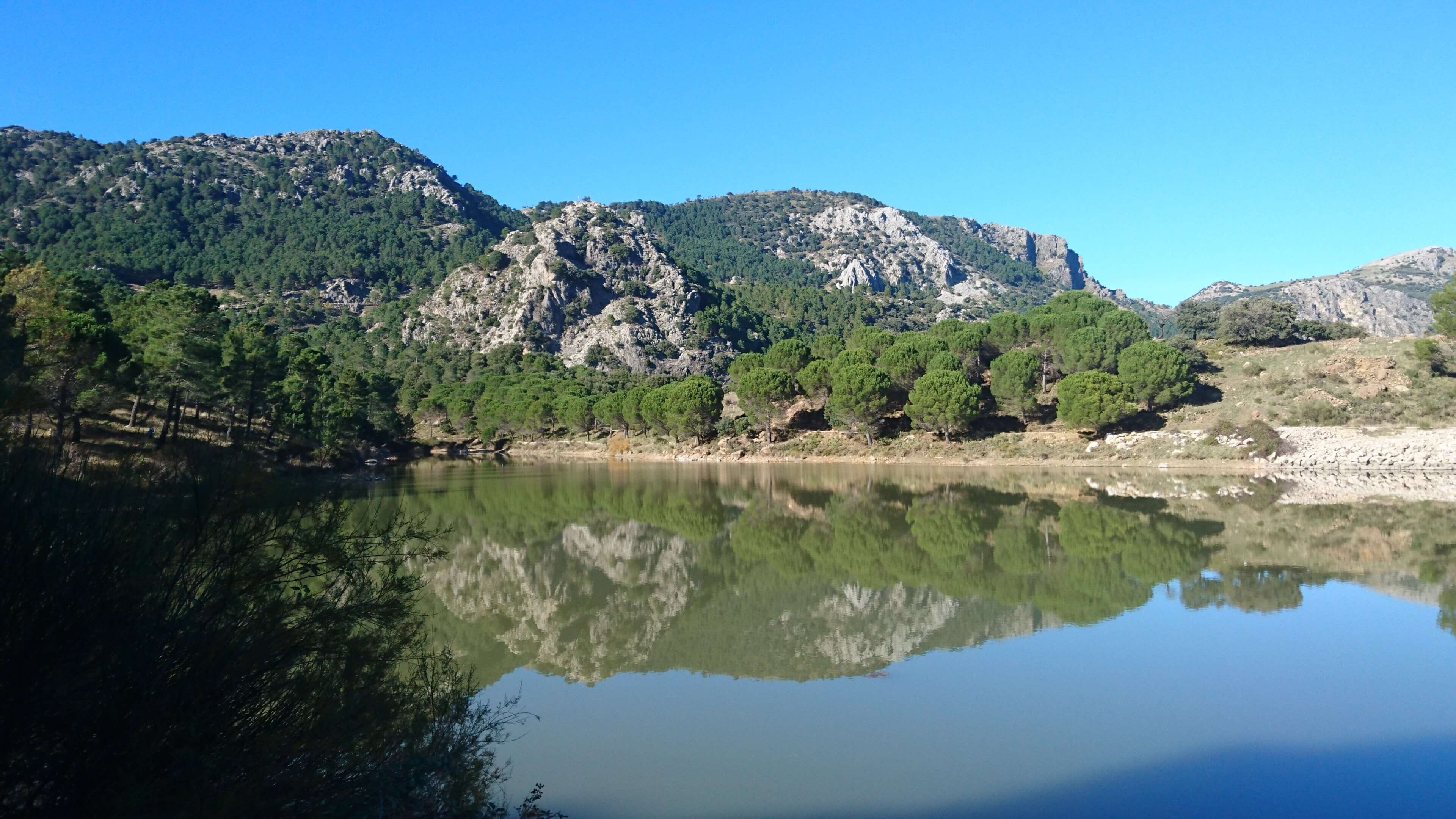 Grazalema to Montejaque – an alternative 15km route between these two villages which heads high up into the mountains via the "Hidden Valley".
Montejaque to Ronda – our regular 12km moderate walk which follows the ancient route through the mountains from the village into Ronda
Tajo del Abanico & Ronda Circular – a short walk out from Ronda to a dramatic limestone rock formation, followed by sightseeing in Ronda, including the Puente Nuevo bridge, bullring and Casa del Rey Moro.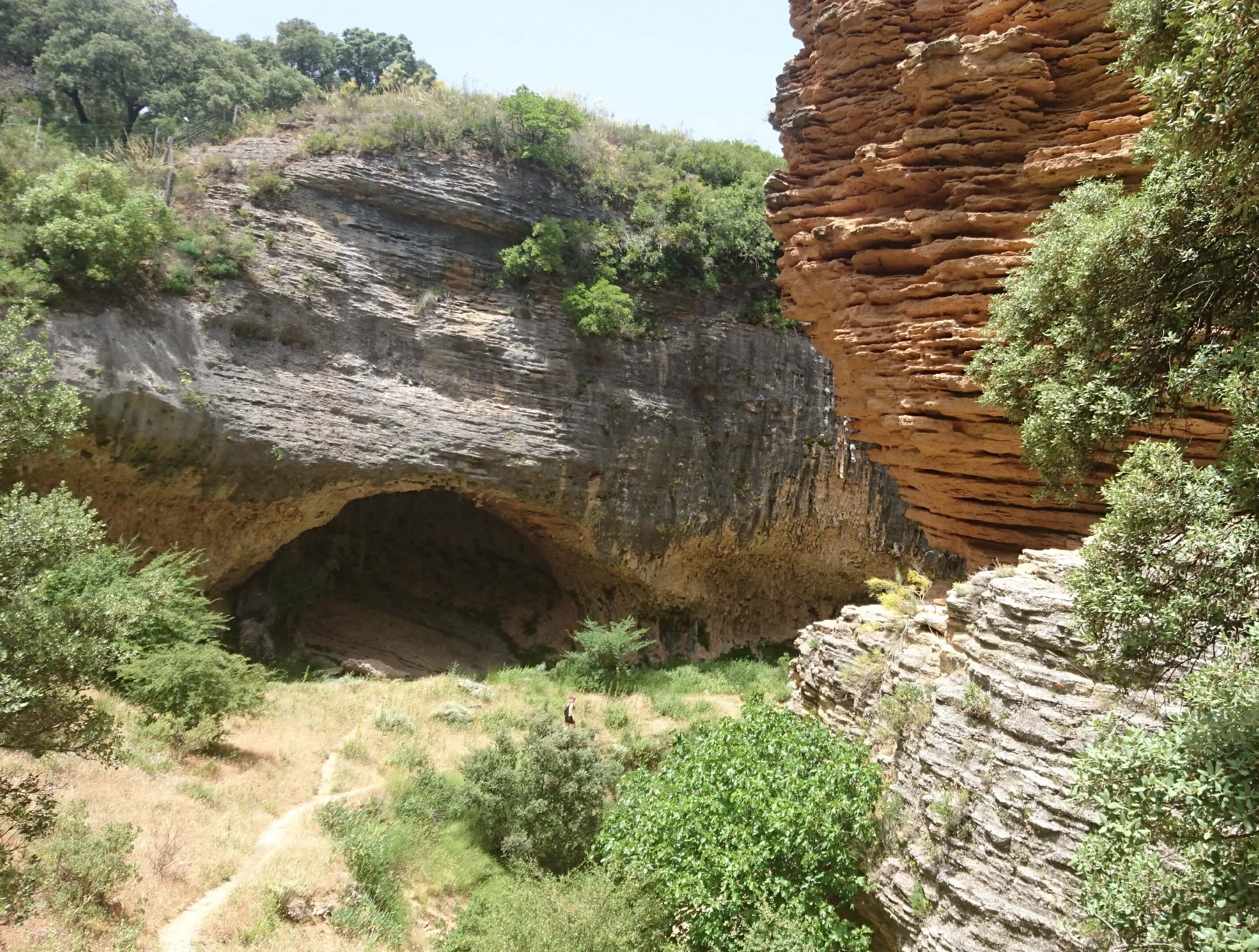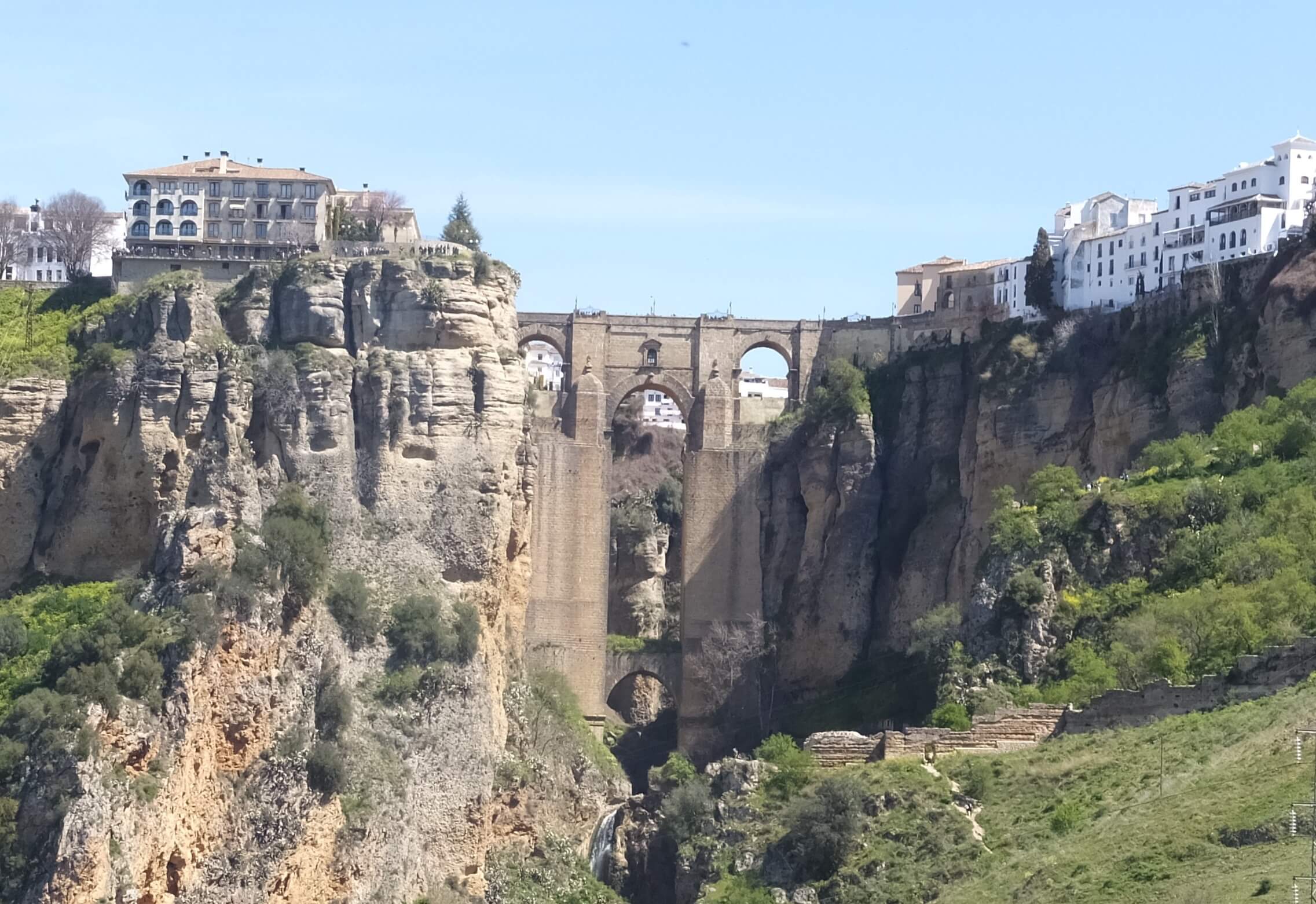 Bike Rides - Ronda to Seville:
Ronda to Olvera – a moderate 35km ride on roads and tracks via Setenil de las Bodegas and on to the hilltop town of Olvera
Via Verde de la Sierra – along the disused railway line
Montellano to Alcala de Guadaira – a longer ride of 58km but on easy-going terrain. Finishes at a beautiful hotel next to the town, with hilltop castle and "dragon bridge"
Alcala to Seville – 23km easy ride right into the centre of Seville, finishing in front of the cathedral. Superb cycle-ways make the route into the city centre both safe and enjoyable.
Italica Circular – a 23km circular route into the hills outside Seville, visiting the Roman ruins at Italica.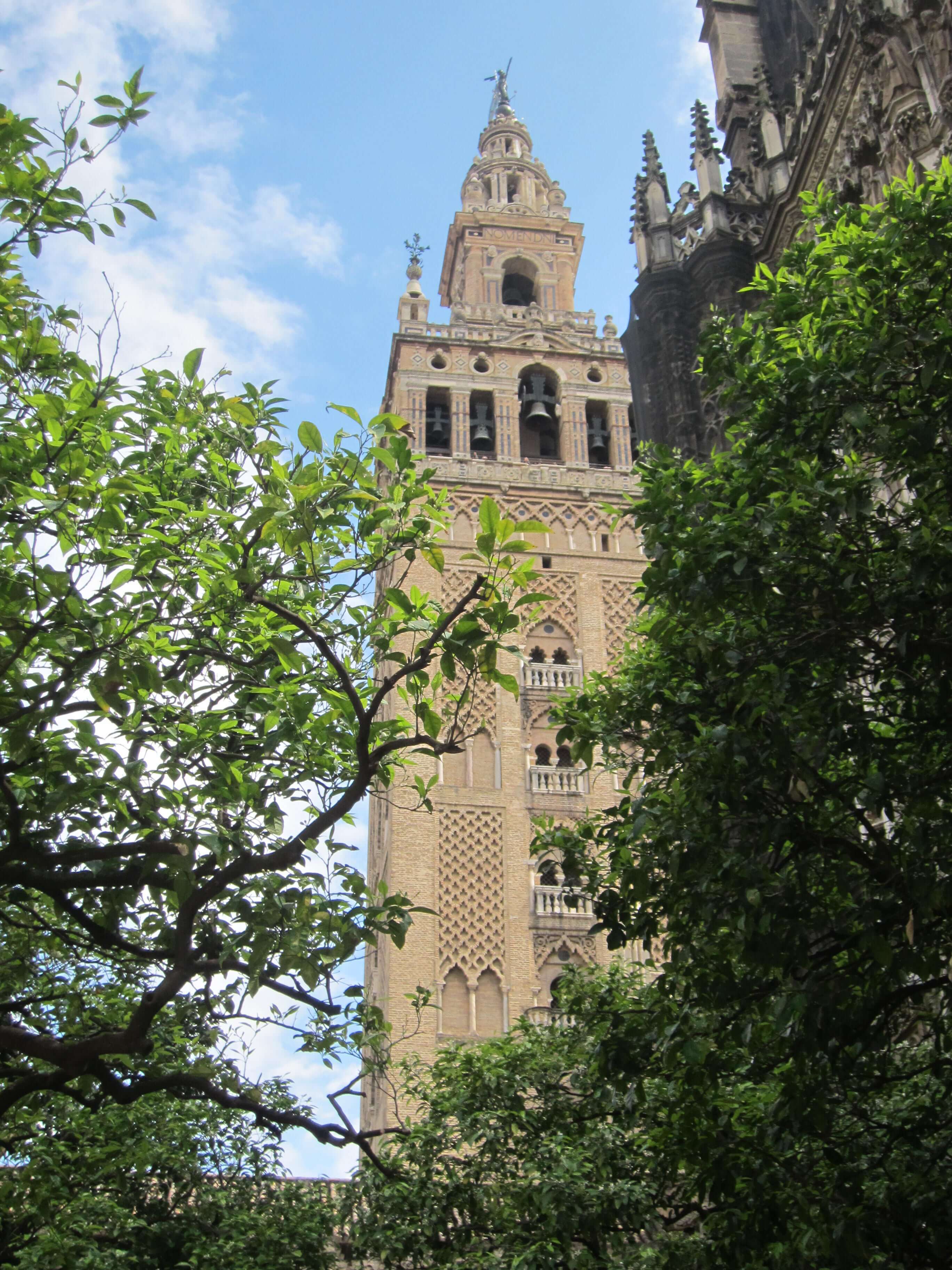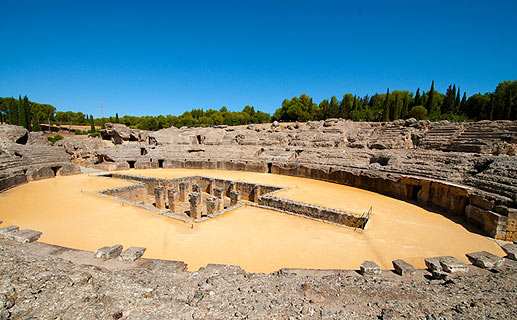 Having spent a few days in Granada prior to joining us and then continuing on from Seville to Cadiz, this was an amazing tour and a grand Andalucian adventure.
In summary, this May we had a fabulous time showing our guests the great hiking and biking which can be enjoyed in this part of Andalucia. The sun shone, the spring flowers were still in bloom, the villages were charming and the mountains were beautiful!
Hike + Bike Holidays for You
We hope these example holiday itineraries gave you some idea of the breadth and variety of hiking and biking holidays we can put together for you near Ronda.
We can also arrange holidays solely biking or hiking – take a look at the different holiday packages we provide.
Whatever your ability, your preferred activity and the amount of time you have to spend, we can create a holiday to suit you. Our goal is to help anyone enjoy hiking and biking in this stunning area of unspoilt, natural beauty.
Contact Us

for more information and bookings.
Heather Cooper, Hike + BIke the Sierras     8/6/2019