Mountain Bike Holidays in Andalucia, Spain

We provide unique guided and self guided XC mountain bike holidays, based in and around Ronda in Andalucia, Spain. The Andalucian mountains offer a fantastic mtb holiday experience which, although only an hour's drive from the busy resorts of the Costa del Sol, feels like a world away!
Remote, dusty trails and technical singletrack, long ascents and descents in mountainous terrain. For bikers looking to take things a little easier we have routes which explore vast unspoilt landscape and the charms of rural Spain. Whatever your choice, after your rides you can relax with a cool drink and tapas, surrounded by stunning mountain views. Get the most out of the area with our qualified guides or go-it-alone, self-guided with a Garmin GPS. 
Centre-Based Holidays and MTB Tours
Our Guided Centre Based MTB Holidays and selected Seasonal Holidays are a great way to explore the hidden tracks and trails in and around Ronda and the two Natural Parks close by. We can still travel good distances and ride very different terrain each day as our minibus support will bring us back to Ronda. Plenty of time also to visit the historical town of Ronda too. 
Our MTB Tours are mainly self guided and offer a great way for capable off-road riders  to explore the wider regions of western Andalucia.
e-MTBS
We also have fantastic e-MTBs which can tackle all sorts of terrain. They add even more route options, as they can take the strain on very hilly and steep rides, allowing us to focus on the riding fun!
Mountain Biking Holiday Dates and Availability
We are very flexible - tell us the dates you wish to travel and we will arrange a trip to suit. 
Click on your preferred mountain biking holiday below to read more:
Mountain Biking Holiday Testimonials
"We really enjoyed the biking" just doesn't do it justice. Following Wayne down 30km of track from the Mountains of the Sierra de la Nieves to the Mediterranean sea, along the rocky roads that circled forests of cork trees, views to ancient white hill towns, and nearly no one on the trail was something I'm sure we will talk about at dinner parties for years to come! The other rides were simply beautiful. Fields of bright red poppies (Amapola), olive groves, ancient white hill towns, countryside, it plays like a happy movie in my head.....You never know how you will affect and influence someone's life, but please know that you both made our Ronda adventure a wonderful experience. From the initial contact to prompt pickup at the time of cycling Heather and Wayne are super organized, calm, and fun! Thanks again." Leanna and Richard, Canada, May 2018
"Wayne and Heather were AWESOME!!! We told them what we normally ride, and they were able to design a personal tour for my son and I that perfectly blended riding with touring with sightseeing. Since they live and ride in the area they run tours, they are intimately familiar with the terrain through which you will be riding and can offer rides for amateurs and experienced riders alike. They were very easy to work with, and took care of every detail on our week-long cycling adventure!" Ryan, USA, March 2018
"We just came home from a week long holiday in Ronda organized by Heather and Wayne in Hike + Bike. We found all the arrangements made for us very well personalized and they fitted our biking skills just beautifully. We highly recommend cycling holiday in Ronda with Wayne and Heather. They are a wonderful, enthusiastic, competent and easygoing couple." Anu & Sanna, Finland, Oct 2015
"Wayne and Heather were able to provide 6 days of tailored guided riding in spectacular countryside, with challenging climbs and fast flowing descents. The hire bikes were very well maintained and well suited to the terrain. Wayne and Heather were always punctual and clear as to what we could expect on each day's riding.Ronda is a great base and we also enjoyed the characterful bars and cafes where we stopped for refreshment and post ride drinks and snacks." Sue & Bruce, UK, Oct 2015
"Wayne & Heather looked after us so well. Everything from the litttle details of airport transfer and bike prepping, right through to fantastic and varied guided rides, and delicious food. We'll be back!"  Tim, UK, Sept 2015 
Mountain Biking Day Trips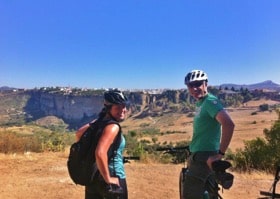 Already in Ronda and looking for a day out on a mountain bike? Check out our Mountain Bike Day Trips