Things to Do in Ronda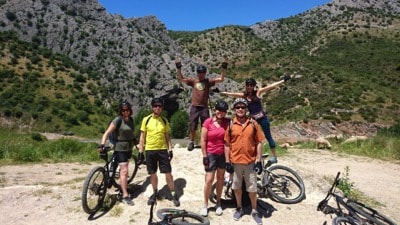 Mountain Bike, Cycle or Hike
Looking for things to do in Ronda? We offer a wide range of guided and self guided day tours for all ages, abilities and interests:
We offer something to suit all levels of ability, confidence and fitness and also have bike rides ideally suited to family groups. Just look at the grading on each route: Easy / Moderate / Challenging
The countryside around Ronda is without doubt some of the most beautiful and unspoilt in Spain. On our day tours you will explore hidden local tracks and trails, surrounded by fabulous mountain scenery. We include visits to local sights of interest or traditional white villages, as well as plenty of time to stop for rests, to enjoy the views, take photos and then sample a few local tapas at the end.
Minibus Tours
For less active visitors looking for things to do in Ronda, we offer minibus tours with a native English speaking driver/guide. Choose from Roman ruins, caves and waterfalls or visit a bodega. Read more here...
Dates & Availability for Things to Do in Ronda
We are very flexible in our scheduling and don't run set trips on set days - we book bike rides, hikes and minibus tours on a first come, first served basis for a minimum of 2 people. If you are solo we will try to find a suitable day tour for you to join. 
Electric Bikes 
e-bikes are now available to use for all our mountain bike and cycling day trips. In addition to this we have some routes which are specifically designed for our e-bikes. Read more here.....
Or select your preferred activity below to find out more about individual day trip options :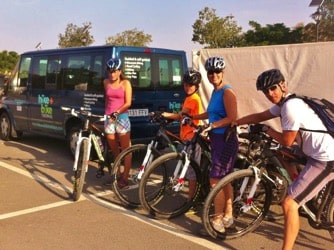 Minibus Support
To optimise the route choices available, our guided biking day trips and hiking day trips are supported by our Hike + Bike minibus. This means we are not restricted to circular routes and can include the most interesting hikes and bike rides in the local area. And the minibus is on hand if you find you have bitten off a bit more than you can chew and need a pick up before the end of the scheduled route.