Holidays in Andalucia 
Mountain Biking, Cycling or Hiking Holidays
Enjoy fantastic cycling and walking with expert guides in the mountain sierras of southern Spain; we offer guided mountain bike holidays, guided leisure cycling holidays and walking holidays. We also arrange self guided cycling tours and self guided walking tours to explore the mountains, hills and valleys of the Serrania de Ronda and the unspoilt Natural Parks which lie to the east and north west of the historic town of Ronda. We can arrange all the ingredients for a perfect hiking, mountain biking or cycling holiday in Spain and are flexible in terms of dates, content and difficulty level. We will match you up with other travellers if your dates and requirements coincide, otherwise we will arrange your holiday specifically to suit you. Contact us to let us know your requirements.

​Throughout your holiday you will be looked after by English guides and hosts - we love this part of Spain and delight in sharing it with our guests. Click on the thumbnail images below to read more about mountain bike holidays, cycling holidays or walking holidays.
We are a fully accredited company registered in Andalucia with the Spanish tourist authorities - Activ Turismo registration (AT/MA/00221). 
"...our week staying in Ronda and doing day cycles or hikes was just fabulous. Wayne and Heather came up with an itinerary that was just perfect, we saw and did so much, it was a great way to see Ronda and surrounding areas. "  Leone & Michael, Australia, October 2016
---
Guided or Self Guided?
Our guided holidays and Hike + BIke holidays (combining walking and cycling) are centre-based either in a boutique country hotel in a restored flour mill just outside Ronda or in Ronda town itself, in a 4**** or equivalent hotel - see more details on accommodation below.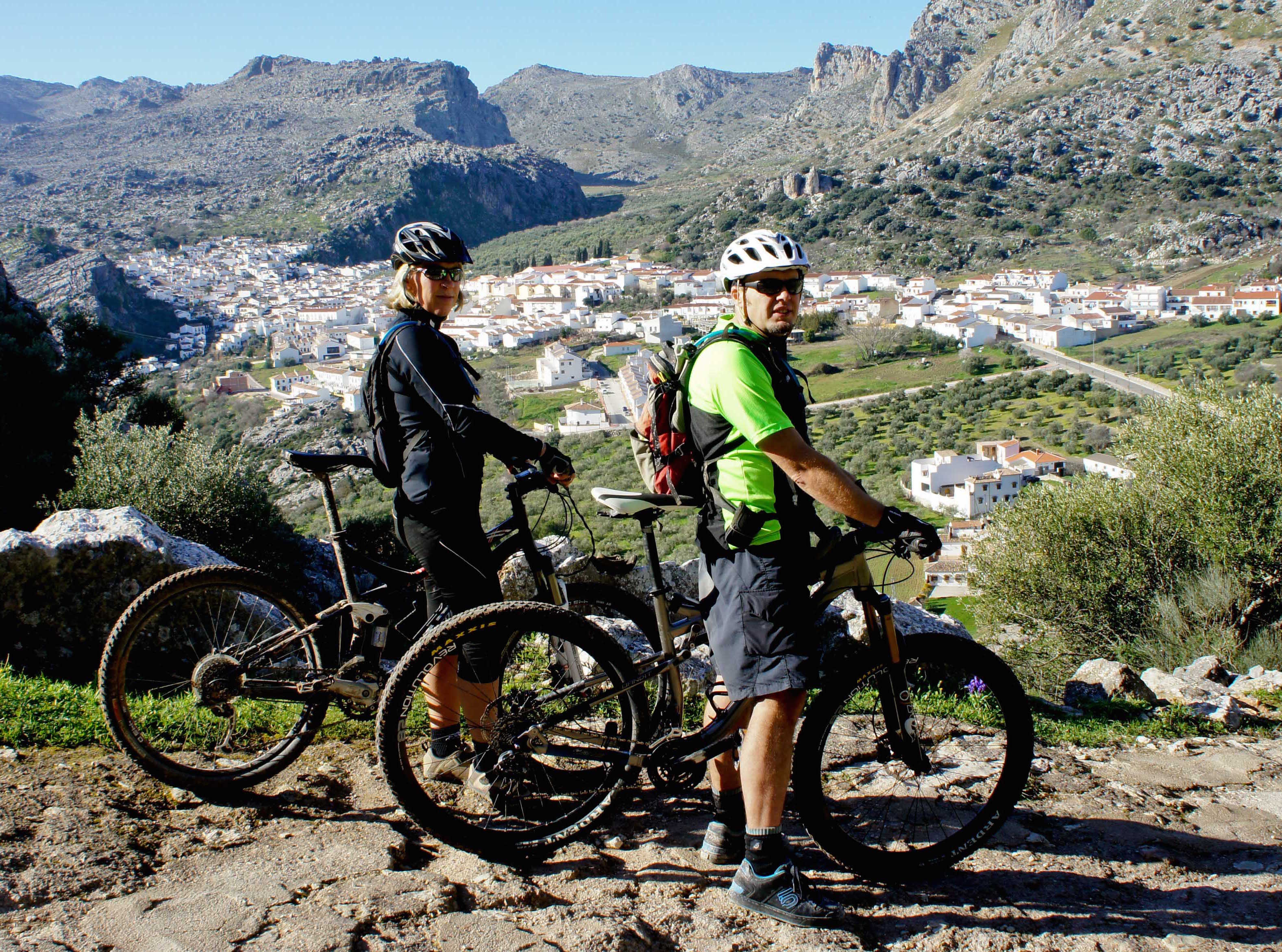 Having a guide for your mountain biking holiday, cycling holiday or walking holiday will help you get much more out of the area, as there are almost no marked trails here to help you find your own way. Whilst road cycling is possible self guided using local maps, if you wish to go off-road, either mountain biking or walking, the maps are less reliable, as they are generally outdated and inaccurate.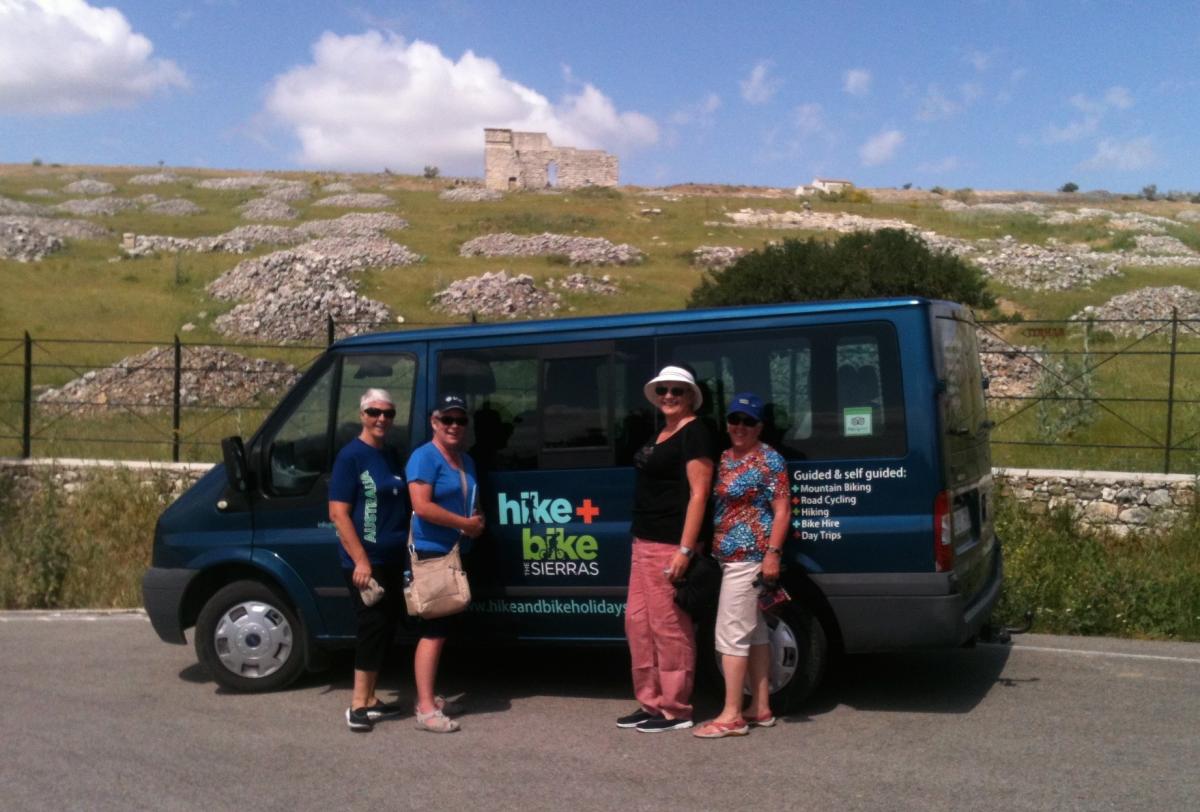 Our guides have expert local knowledge of the tracks and trails and can also share many cultural insights about the area. Having a guide also opens up the route options, as our guided holidays are fully vehicle supported.
Our guides are qualified by British Cycling, so you can be sure of high quality guiding. Our guides are also Outdoor First Aid qualified.
If you prefer to self guide, we recommend our White Village Cycling Tours or White Village Walking Tours. These take you from village to village, on pre-selected paths, using a pre-loaded Garmin GPS and uniquely annotated maps. Click on the links above to find out more.
---
Centre-Based or Place-to-Place?
Centre-based holidays allow you to fully explore the area local to Ronda, where there is a wide variety of scenery, tracks, trails and small villages. We will put together a range of activities for each day and arrange your accommodation to suit. Click on the links to read more about our centre based mtb holidays, centre based cycling holidays and centre based walking holidays.
If you prefer to travel each day and experience the charms of different villages and hotels each night, you can take one of our White Village Cycling Tours or White Village Walking Tours.
---
Accommodation
Our centre-based holidays are based in a family-run, boutiuqe countryside hotel, just outside Ronda. The hotel is a beautifully restored olive mill, full of character and comfort. On 5 nights you will dine in the hotel's excellent restaurant, La Cascada, with 2 nights left free for you to explore Ronda's extensive range of restaurants and tapas bars. Standard accommodation is for 2 people in a double or twin room.
The Hotel Molino del Puente.....
  
If you prefer to stay in Ronda town, we can arrange accommodation at all levels here. We have good knowledge of all the hotels in town and maintain close relationships with our favourites, which we have selected based on our experience of service, facilities, welcome, location, comfort and price. Tell us what is most important to you and we will make our recommendations.  
Whether you stay out of town or in the centre, Ronda is a wonderful town to visit and explore - read more about Ronda here.
---
Bespoke Holidays - Personal Packages & Quotations
If you would like us to put together an alternative mountain biking or hiking holiday package, we are extremely flexible and can arrange bespoke cycling or walking holidays and short breaks from 3 days upwards for a minimum of 2 people. Simply send us an email via our Contact Us page with the following information and we will prepare you a peronal quotation.   
  

number of people?

  

when do you want to travel?

  

what activity (mountain biking, cycling or walking)?

 

guided or self-guided?

  

do you need airport transfer?

  

do you need to hire bikes?