Not sure about the hills?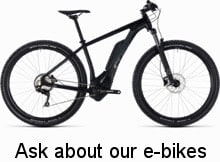 White Villages Road Cycling (1 Day Tour)
A bike tour which takes us on roads from the white village of Montejaque via Grazalema to Zahara de la Sierra.  From Grazalema, there are two options to get to  Zahara: ride up and over the Las Palomas pass, topping out on the peak at 1,357m, before dropping down towards the lake and Zahara village; or cycle down from Grazalema to the southern tip of the lake, then take a smooth, undulating bike ride along the lake shores to end at Zahara.  Whichever choice, the views are stunning and you will get to see three of Andalucia's most charming "pueblos blancos".