Andalucian eMTB Day Tours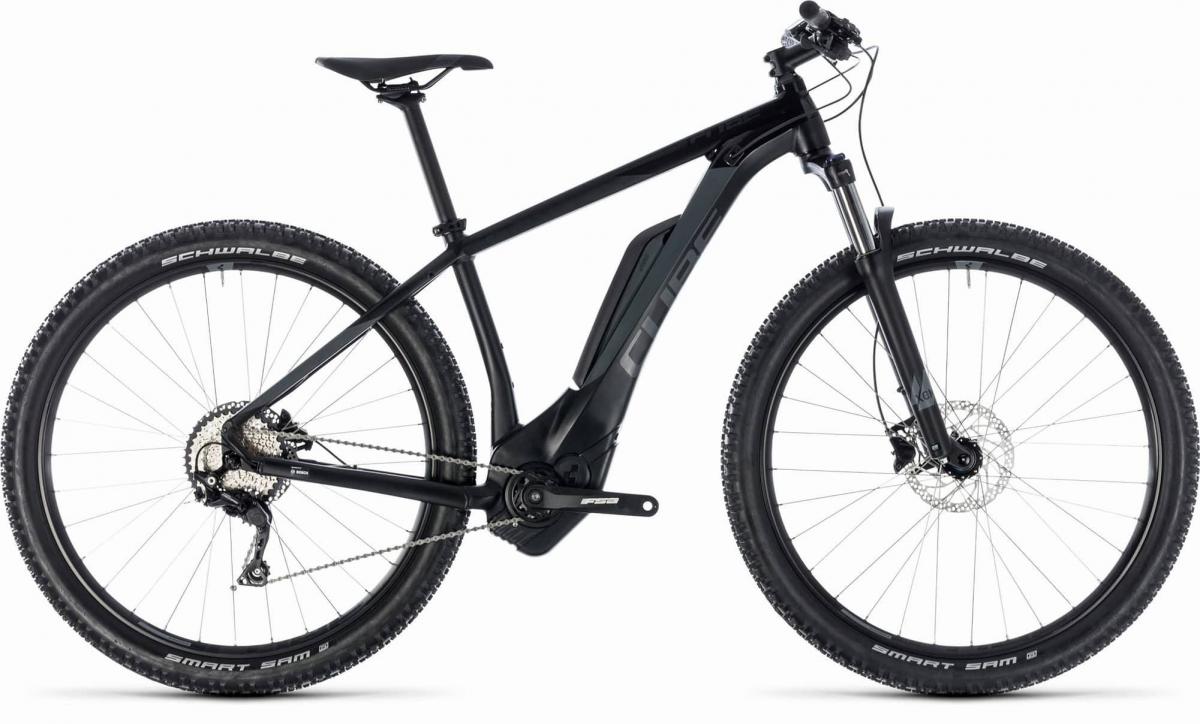 Guided Cycling Tours with Electric Pedal Assist Mountain Bikes
Want to explore further, longer or more often? Our CUBE Reaction Hybrid Pro's are your ideal companion. Built around the superbly efficient Bosch CX drive system, our adaptable hardtail will help you tame any trail. With a plush, accurate-steering Suntour suspension fork and light, grippy 2.6 inch Schwalbe tyres to keep you on track, a Shimano 10 speed transmission with a new wide-range 11-42T cassette to provide a gear for every situation and powerful hydraulic disc brakes to keep your speed in check, there's everything you need here to expand your off-road and touring horizons. From the first pedal stroke to the last, our ebikes will help you on your way.
Our e-bikes are great for leisure riders who want a helping hand with the hills on roads and unsurfaced tracks. See our Leisure e-bike Tours for easy route options, suitable for anyone.
Our e-bikes are also designed to be tough enough to cope with challenging and technical off-road riding, so even seasoned mountain bikers can have fun on these bikes. Intermediate and exprerienced mtb riders can enjoy tackling rocky and uneven ground, roots and ruts and twisting and technical trails. Aand because the e-bikes take much of the strain on long hill climbs, you can ride further and faster when the going gets tough. See our eMTB Tours, graded accorded to fitness/effort level and technical mtb skills requirement. N.B. Some of these routes explore the mountains behind the Costa del Sol, perfect for guests staying on the coast. 
Leisure e-bike Tours 
Title

Quick Details

Distance / Ascent

Hours

Duration / Grade

Guided €70

Self Guided €55

See the different views of Ronda town from great viewpoints in the surrounding countryside: Puente Nuevo Bridge, Arab Bridge and Old Bridge, old town and city walls, natural springs/water fountains, vineyards and oak groves, Roman Aquaduct. One cobblestone descent at the start down into the valley, then quiet roads and wide dirt tracks. 

35km / 533m

3 hrs

Easy

Cueva del Gato

Guided €70

Self Guided €55 

Ride via Ronda valley below the famous Puente Nuevo bridge to the local beauty spot and waterfall at the Cueva del Gato then back to Ronda. One cobblestone descent at the start down into the valley, then quiet roads and wide dirt tracks.

Option to extend this ride with climb up into mountaintop village of Montejaque for a circular ride back to Ronda.

36km / 620m

 

41km / 792m

3 hrs

 

4 hrs

Easy

Acinipo & Setenil Circular

Guided €70

Self Guided €55

Ride out of Ronda and up into the hills to a high escarpment and the remains of Acinipo or "old Ronda" where the partially rebuilt amphitheatre provides commanding views of the hills and valleys, vineyards and wheatfields all around. Cycle down to the riverside "village of the cavehouses", Setenil de las Bodegas and back to Ronda. An undulating mountain loop on quiet roads; long ascents and descents.  

46km / 955m

4 hrs

Easy

Guided €75

Self Guided €55

+ wine tasting

A pleasant cross country ride, passing market gardens, olive and almond groves on your way up to a local family-run organic wine bodega. Spectacular views across the valley. Wine tasting with tapas or lunch will be arranged for you. Quiet roads and country tracks. Minibus return to Ronda.

24km / 147m

2 hrs + wine tasting

Easy
eMTB Tours
Circular Tours riding from our base in Ronda - Guided (€75 p.p.) or Self-Guided (€55 p.p.):
| | | | | |
| --- | --- | --- | --- | --- |
| Title | Desscription | Distance/Ascent | Fitness | Skill Level |
| Setenil Circular | Unsurfaced tracks, hills and farmland, visiting unusual "cavehouse" village. | 46km / +622m | Low  | Novice |
| Montejaque Circular | Unsurfaced tracks and quiet roads, long ascent and descent. Visit Cueva del Gato waterpool and mountaintop white village. | 36km / +865m | Moderate | Intermediate |
| Cuevas del Becerro Circular | Wide dirt tracks, small sections of singletrack and quiet roads - tracks are eroded and loose in some places. | 46km / +653m | Moderate | Intermediate |
Circular Tours riding from Costa del Sol - Guided only (€85 p.p.)
| | | | | |
| --- | --- | --- | --- | --- |
| Title | Desscription | Distance/Ascent | Fitness | Skill Level |
| Sierra de las Nieves XC Mini | Short ride through the protected Natural Park area on dirt tracks. Loose and rocky in places, some long ascents and descents. | 22km / +605m | Moderate | Intermediate |
| Istan Circular | Opening with a road ascent then lots of "ups and downs" on continuously ascending and descending mountain tracks, loose and eroded in places. | 48km / +1704m | Moderate | Intermediate |
| Benahavis Mountains & River | Explore the mountains around Benahavis. Mostly dirt tracks and some short singletrack sections. Lots of ascent, technical in parts. | 30km / +1069m | Challenging | Intermediate |
| Sierra de las Nieves XC Challenge  | A longer version of the XC Mini with significantly more climbing and some more technical sections. | 48km / +1725m | Challenging | Intermediate |
Routes from Ronda with driving / support - Guided only (€80* - €90** p.p.)
Title

Desscription

Distance/Ascent

Fitness

Skill Level

El Chorro XC Challenge

 **

A cross country route towards Andalucia's "lake district" and El Chorro gorge. Hilly terrain, mostly forest tracks and some sections of single track with technical options along the way

48km / +880m

Challenging

Intermediate

Genal Valley XC Challenge

 *

Explore trails through the heart of a chestnut tree filled valley and its surrounding hills. Mostly wide tracks with long climbs and descents through forests of pine and chestnut trees.

44km / +1843m

Challenging

Intermediate

El Burgo Grand XC

 *

Panoramic views and great XC trails. Mix of wide tracks and single track with varying degrees of technical terrain. Long ascents and descents requiring technical MTB ability.

54km / +1478m

Challenging

Technical

Included in our prices:

Self Guided - Route maps & Garmin cycling GPS with preloaded route
Guided - "British Cycling" qualified guide

Cube Reaction Hybrid MTB ebike

Helmet & water bottle

Transport to and from start and finish of rides where necessary

Meeting points are arranged according to accommodation locations

Will I be fit enough?

 

Our eMTB routes are designed for leisure cyclists right through to experienced XC mountain bikers. There are hills and mountains throughout the region which need to be tackled but we keep distances manageable and within the range capabilities of our ebikes, particularly on routes  where less experienced riders will require more assistance from the ebike. To ride our challenging routes you will still require a good level of fitness on the bike.

Just remember that in summer, higher temperatures can make cycling seem harder so taking this into consideration is strongly advised when choosing a route.

 
What to Bring?
We supply bikes, helmets and water bottles. 

Footwear - 

Trainers or firm soled shoes. No open toed sandals or flip flops. 

Clothing - 

Loose, comfortable clothing or sportswear. Thin layers are better than 1 thick top as they are easier to remove during the ride if you get warm. Padded cycling shorts and cycling gloves will help to make your ride more comfortable but are not necessary. A thin windproof jacket is advisable on rides which go higher into the mountains or include long downhil sections (see individual ride details).

Rucksacks - Optional, to carry spare clothes, suncream etc. Essential for longer rides in the summer when you will need to bring extra water. No bags allowed hanging from the handle bars.

Snacks - Refreshment stops usually scheduled for the end of your ride and also midway for longer rides. Bring your own if you will need something else to keep you going (particularly famillies with children as they tend to need re-fuelling mid-ride!)

Other - sunglasses, suncream!
extra body layers with long sleeves (thin thermal tops are great)

leggings or cycling tights

light waterproof/windproof jacket 

neck scarf / snood (great as sweat bands in the summer and for warmth in the winter)