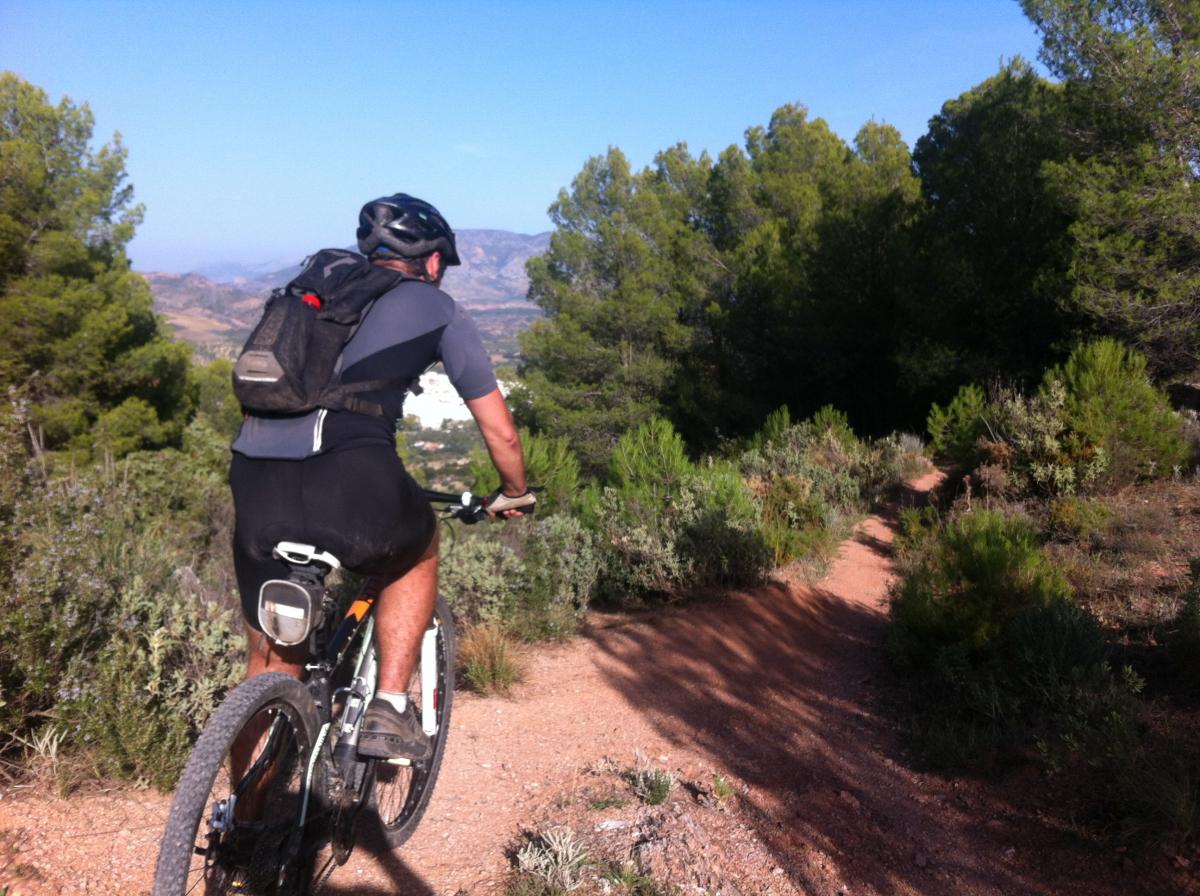 Mountain Biking Holiday Week
Guided and self guided MTB weeks based in Ronda are available at all levels - simply contact us to discuss your mountain biking level and preferred ride types. 
All levels of rider can enjoy great mountain biking in the hills and mountains of the Serrania de Ronda in Andalucia. There are miles of unspoilt and unmarked trails here which offer easy tracks, challenging ascents, great descents and superb cross country rides. 
Click here for photo gallery          Click here for Holiday Pricing
Example Guided Itinerary - Challenging MTB week
(easier itineraries available)
This challenging MTB holiday week is suitable for mountain biking clubs or for relatively experienced mountain biking friends or couples. Highlights include:
Exploring the Natural Parks of Sierra de las Nieves and SIerra de Grazalema - protected areas which are a haven for mountain bikers

Riding cross country to the dramatic gorge of El Chorro, where water runs through a 3m gap at the bottom of a 200m limestone gorge

Cycling downhill from high in the mountains right down to the Mediterranean

Riding a twisting river valley trail with lots of technical singletrack before taking a dip in the river at the end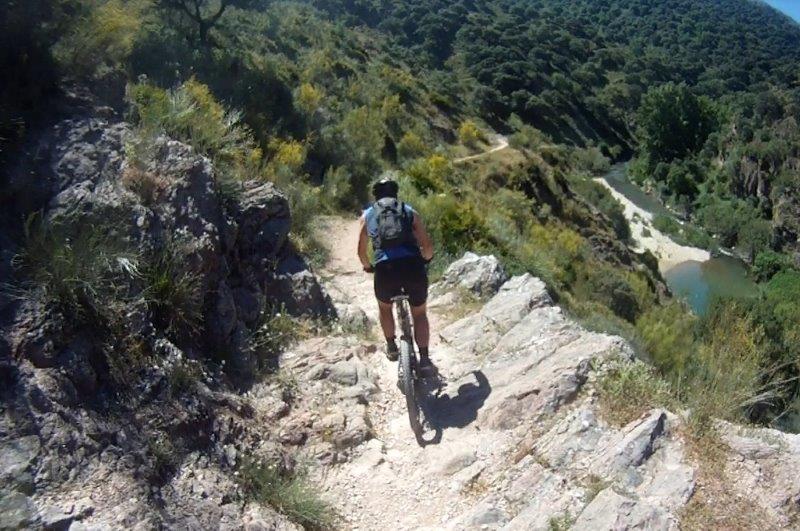 Summary 
8 day tour (incl flying and transfer days)

5 days cycling

Total distance cycled: 257km - avge daily distance:51km 

Level of difficulty: challenging 
Day 1 – Transfer from Malaga airport to the finca  Welcome drinks and tapas. Meet your guides for a chat about the weeks' riding. Bike set up. Relax in the finca grounds before dinner.   
Day 2 – Ronda to Coripe  (65km; 1100m ascent; 1600m descent)  A moderate start to the week in terms of climbing but plenty of distance to warm up the legs and give you a taste of the terrain and conditions.  We head cross country through the Serrania de Ronda to the small white village of Setenil de las Bodegas, where cavehouses were built into the limestone valley walls many centuries ago and are still used today as homes, cafes and bars. We ascend out of the river valley and up to the hilltop village of Olvera. Then finish with an easy 20km along an abandoned railway line, through a series of tunnels and passing a Griffon vulture colony.
Day 3 –  Mountains to the Mediterranean  (37km; 568m ascent; 1638m descent)  An exhilarating ride along a route from the heart of the Sierra de las Nieves Natural Park down to the beaches and marina of Puerto Banus. The Park has no roads, just trracks and trails, so it is truly unspoilt. For the more adventurous rider, we add in some of the steep and loose fire tracks which cut up and down through the mountains between the pine forests to test your bike handling skills and add challenge. From the highest point (1280metres above sea level) the views over to the Costa del Sol, Mediterranean Sea, Gibraltar and Africa will not fail to impress you. Then its 27km of almost continuous descent, following an ancient mountain route down to the coast, twisting its way around the mountains, via pine forests, cork oaks and the Lake Concepción.  A stunning and unforgettable ride. 
Day 4 –  Ronda to El Chorro gorge  (60km; 1700m ascent; 2200m descent)  A ride which uses parts of the well-travelled GR7 route across Andalucia, combined with more remote trails. Most of the day's riding is in open countrside, dotted with farms and isolated houses with far-reaching views across the rolling hills and mountains - a real taste of rural Andalucia. A short ascent followed by single track through the pine forests and over the local rock formations takes us to the El Chorro gorge. We finish at a bar overlooking the el Chorro gorge for a well-earned beer! 
Day 5 – Rest Day  Optional minibus day trip to Seville or take the time to explore Ronda's many interesting sights.  Or take off on your own for a self-guided days' riding.
Day 6 – Ronda to El Burgo  (48km; 1320m ascent; 1613m descent)  A cross country ride which takes us up and over the Lifa Pass and through another secton of the Sierra de las Nieves park.  Other tour operators ride the Lifa Pass from east to west to get to Ronda but the more enjoyable version is from Ronda out to the east; less carrying, better descent and the same great views. We also finish near a great local swimming area for a dip in the river.
Day 7 – Grazalema to Jimera (34km; 1500m ascent; 2000m descent)  A final chance to experience some of the best mountain biking in the region, in the Sierra de Grazalema. Long technical descents, lots of singletrack and superb cross country trails, taking us through cork oak forests, past an abandoned dam and to the Cueva del Gato ("Cat Cave"). This crystal clear waterfall and pool mark the end of an 8km watery cave system through the limestone mountains. The final section of the ride follows a path known as Mr Henderson's walk, a 7km section of single track which undulates along the river valley with technical sections, long climbs and fast descents before enjoying tapas and a drink at Jimera Estacion, where you can take a dip in the river.
Day 8 – Transfer to Malaga airport for your flight home